01.12.2018 | Study protocol | Ausgabe 1/2018 Open Access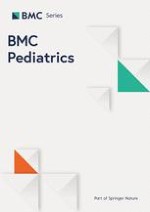 Early intervention program for very low birth weight preterm infants and their parents: a study protocol
Zeitschrift:
Autoren:

Rita C. Silveira, Eliane Wagner Mendes, Rubia Nascimento Fuentefria, Nadia Cristina Valentini, Renato S. Procianoy
Abstract
Background
Preterm infants are high risk for delayed neurodevelopment. The main goal is to develop a program of early intervention for very preterm infants that allows families to apply it continuously at home, and quantify the results of early parental stimulation on improvement of cognition and motor skills.
Methods
Randomized clinical Trial including inborn preterm infants with gestational age less than 32 weeks or birth weight less than 1500 g at 48 h after birth. Eligible for begin the intervention up to 7 days after birth. Study Protocol approved by the Brazilian national Committee of ethics in Research and by the institutional ethics committee.
Intervention group (IG): skin-to skin care by mother (kangaroo care) plus tactile-kinesthetic stimulation by mothers from randomization until hospital discharge when they receive a program of early intervention with 10 parents' orientation and a total of 10 home visits independently of the standard evaluation and care that will be performed. Systematic early intervention program will be according to developmental milestones, anticipating in a month evolutionary step acquisition of motor and / or cognitive expected for corrected age. Active comparator with a Conventional Group (CG): standard care according to the routine care of the NICU and their needs in the follow up program. Neurodevelopment outcome with blinded evaluations in both groups between 12 and 18 months by Bayley Scales of Infant and Toddler Development third edition and Alberta Motor Infant scale will be performed. All evaluations will be conducted in the presence of parents or caregivers in a safe room for the child move around during the evaluation.
Discussion
If we can show that a continuous and global early intervention at home performed by low income families is better than the standard care for very preterm infants, this kind of program may be applied elsewhere in the world. We received grants by Bill and Melinda Gates Foundation, DECIT, Cnpq and Health Ministry. Grand Challenges Brazil: All Children Thriving.