30.04.2018 | Original Article | Ausgabe 5/2018 Open Access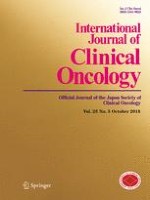 Early intervention using high-precision radiotherapy preserved visual function for five consecutive patients with optic nerve sheath meningioma
Zeitschrift:
Autoren:

Toshihiko Inoue, Osamu Mimura, Norihisa Masai, Atuyuki Ohashi, Koji Ikenaga, Yoshishige Okuno, Iku Nishiguchi, Ryoongjin Oh
Abstract
Background
There has been a paradigm shift in the treatment for optic nerve sheath meningioma (ONSM) from surgery to fractionated stereotactic radiotherapy (FSRT) in other countries. However, FSRT has seldom been performed in Japan. The purpose of this retrospective study is to reconfirm the effectiveness of early intervention with precision radiotherapy for ONSM reported in our previous study.
Methods
Five consecutive patients with ONSM were retrospectively analyzed. All patients underwent intensity-modulated radiotherapy (IMRT) or FSRT. They received the early interventions between 1.5 and 7 months after deterioration of the disease. The median dose was 52.8 Gy (range 46.0–59.4 Gy) and the median number of fractions was 25 (range 22–33).
Results
All patients experienced reestablishment of vision at the median follow-up time of 36 months (range 18–54 months). Four of them noted early improvement of visual deficits during the treatment course (range 2–4 weeks) and the remaining patient improved 3 weeks after completion of IMRT. The median tumor reduction was 53% (range 39–75%). One patient with diabetes mellitus developed retinal bleeding as a result of radiation retinopathy 16 months after IMRT, although the doses were acceptable. The remaining 4 patients have no late toxicity at the follow-up time of 31–54 months.
Conclusions
A paradigm shift is necessary from surgery to early intervention using precision radiotherapy for the treatment of ONSM in Japan.