01.09.2009 | Ausgabe 9/2009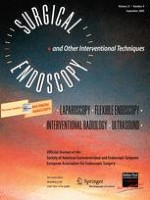 Early laparoscopy for ileocolic intussusception with multiple recurrences in children
Zeitschrift:
Autoren:

Yu-Tang Chang, Jui-Ying Lee, Jaw-Yuan Wang, Chi-Shu Chiou, Jan-You Lin
Abstract
Background
The risks of subsequent episodes and a lead point are common problems in ileocolic intussusception with more than two recurrences. To decrease subsequent recurrence and to detect a lead point, an early laparoscopy was performed for children with ileocolic intussusception.
Methods
This study enrolled six children with multiple recurrences of ileocolic intussusception from January 2004 to August 2007. Using a 5-mm laparoscope and two additional transabdominal wall stab incisions, an appendectomy and an ileocolonic pixie with nonabsorbable sutures were performed simultaneously for all the children after the last successful hydrostatic reduction.
Results
The mean operating time was 68.8 ± 12.6 min (range, 55–86 min). There was no operative morbidity, and no lead point was found in any child. The mean follow-up period was 10.8 ± 6.7 months (range, 2–20 months). No recurrence was observed during this period.
Conclusion
The authors suggest that early intervention should be undertaken for ileocolic intussusception with multiple recurrences in children after the last nonsurgical reduction has been attempted successfully. Under this strategy, laparoscopy is an acceptable approach. It allows differentiation of a specific etiologic lesion, the possibility of incomplete reduction, and additional proximal invaginations. Later complications, such as repeat recurrence and associated surgical morbidity, also can be avoided.