01.12.2015 | Research article | Ausgabe 1/2015 Open Access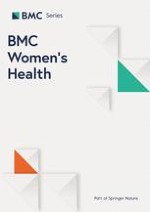 Early maternal age and multiparity are associated to poor physical performance in middle-aged women from Northeast Brazil: a cross-sectional community based study
Zeitschrift:
Autoren:

Saionara Maria Aires Câmara, Catherine Pirkle, Mayle Andrade Moreira, Mariana Carmem Apolinário Vieira, Afshin Vafaei, Álvaro Campos Cavalcanti Maciel
Wichtige Hinweise
Competing interests
The authors declare that they have no competing interests.
Authors' contributions
SMAC and ACCM contributed to the conception and design of the present study and analysis plan. SMAC, CP and AV analyzed the data with feedback from all authors. SMAC and CP also wrote the manuscript. SMAC, MAM and MCAP contributed to the acquisition of data. All authors contributed to the interpretation of the data and to critical review of the manuscript. All authors read and approved the final manuscript.
Abstract
Background
Adolescent childbirth and elevated parity are relatively common in middle and low-income countries and they may be related to the higher prevalence and earlier onset of physical decline documented in these settings, especially in women. The aim of this paper is to investigate whether reproductive history is associated with physical function in middle-aged women from Northeast Brazil.
Methods
The relationship between poor physical performance (grip strength, gait speed and chair stand), early maternal age at first birth (<18 years old), and multiparity (≥3 children) was evaluated in a community sample of 473 women living in Parnamirim (Northeast Brazil). Linear regression models were used to examine the relationship of interest; in addition, mediation analyses were employed to assess indirect effects of obesity and family income.
Results
Women who gave birth at less than 18 years of age took approximately 0.50 s longer to complete the chair stand test compared to women who gave birth at 18 years or older. Moreover, women who gave birth to < 3 children completed the chair stand test 0.42 s faster compared to those who had ≥ 3 children. The relation between reproductive history and physical performance was mediated by BMI. Reproductive history was not associated with performance in gait speed.
Conclusions
This study provides evidence that adolescent childbirth and multiparity are related to worse physical performance in middle-aged women from a low income setting. Reproductive history may partially account for earlier physical decline and greater disability in women from lower income settings.