03.05.2019 | Original Article | Ausgabe 12/2019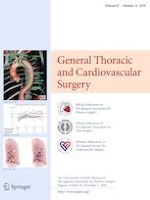 Early outcomes of transcatheter aortic valve implantation for degenerated aortic bioprostheses in Japanese patients: insights from the AORTIC VIV study
Zeitschrift:
Autoren:

Kizuku Yamashita, Satsuki Fukushima, Yusuke Shimahara, Yasuhiro Hamatani, Hideaki Kanzaki, Tetsuya Fukuda, Chisato Izumi, Satoshi Yasuda, Junjiro Kobayashi, Tomoyuki Fujita
Wichtige Hinweise
Electronic supplementary material
Publisher's Note
Springer Nature remains neutral with regard to jurisdictional claims in published maps and institutional affiliations.
Abstract
Objective
The valve-in-valve procedure, in which a transcatheter heart valve (THV) is implanted into a degenerated bioprosthetic valve, is standardized for high-risk patients. However, this procedure is challenging in Japanese patients who have a small aortic annulus. We investigated the feasibility, safety, and therapeutic efficacy of the valve-in-valve procedure involving a degenerated stented bioprosthesis, stentless bioprosthesis, or THV.
Methods
We performed a single-center, non-comparative study of the aortic valve-in-valve procedure (AORTIC VIV study). Beginning in October 2016, the aortic valve-in-valve procedure was performed in seven patients with a stented bioprosthesis, in three patients with a stentless bioprosthesis, and in one patient with a THV.
Results
No 30-day post-procedure mortality or severe morbidities occurred. The mean echocardiographic gradient in the aortic position improved from 41 (38–48) to 17 (11–22) mmHg at 30 days (
p
 = 0.01). No paravalvular or mild and more transvalvular leaks were detected. The New York Heart Association functional class improved from 2 (2–2.5) to 1 (1–1) at 30 days postoperatively (
p
 = 0.01). Although the procedure failed in two patients with an implanted stentless bioprosthesis, the third patient with a stentless bioprosthesis and the one patient with a degenerated THV successfully underwent the valve-in-valve procedure.
Conclusions
Feasibility, safety, and potential efficacy of the aortic valve-in-valve procedure were confirmed in selected Japanese patients with a degenerated aortic bioprosthesis. The valve-in-valve procedure for stentless bioprostheses was technically challenging.