01.03.2012 | Original Article | Ausgabe 3/2012 Open Access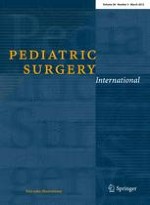 Early post-operative interleukin-6 and tumor necrosis factor-α levels after single-port laparoscopic varicocelectomy in children
Zeitschrift:
Autoren:

Wei Hao, Ivy H. Y. Chan, XueLai Liu, Paula M. Y. Tang, Paul K. H. Tam, Kenneth K. Y. Wong
Wichtige Hinweise
The authors W. Hao and I.H.Y. Chan are the co-first authors of this article.
Abstract
Purpose
Laparoendoscopic single-site surgery has recently been described in children and regarded as an improved technology leading to less pain and better cosmetic outcome. Compared to the traditional three-port method, it is not known if the single-port method is less invasive. The aim of this study was thus to investigate the post-operative acute inflammatory response in order to evaluate surgical stress in the two surgical approaches in children.
Methods
A prospective, single blinded, case-control study was carried out. Thirteen male patients who presented with unilateral varicocele were divided into two groups. Six children underwent single-port laparoscopic procedure, while the other seven children underwent three-port laparoscopic procedure. Pre-operative and post-operative blood samples were taken for the measurement of tumor necrosis factor-α (TNF-α) and interleukin 6 (IL-6) using ELISA. Demographics including the operation time, and complications were recorded. Data between the two groups were analyzed using unpaired
t
-test and a
p
value of <0.05 was taken as statistically significant.
Results
The mean age of patients was 14.5 years (range 12–19 years). There was no significant difference between the two groups in terms of operative time, nor there was any complication recorded. The change in serum TNF-α and IL-6 concentrations pre- and post-operatively between the single-port group and three-port group was not statistically significant. Overall, patients in the two groups showed excellent satisfaction in terms of post-operative cosmesis.
Conclusion
Single-port laparoscopic varicocelectomy is safe, effective and produces excellent cosmesis with minimal surgical stress.