01.12.2017 | Short report | Ausgabe 1/2017 Open Access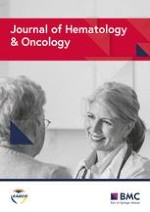 Early presence of anti-angiogenesis-related adverse events as a potential biomarker of antitumor efficacy in metastatic gastric cancer patients treated with apatinib: a cohort study
Zeitschrift:
Autoren:

Xinyang Liu, Shukui Qin, Zhichao Wang, Jianming Xu, Jianping Xiong, Yuxian Bai, Zhehai Wang, Yan Yang, Guoping Sun, Liwei Wang, Leizhen Zheng, Nong Xu, Ying Cheng, Weijian Guo, Hao Yu, Tianshu Liu, Pagona Lagiou, Jin Li
Wichtige Hinweise
Electronic supplementary material
Pagona Lagiou and Jin Li shared senior authorship
Abbreviations
ECOG PS
Eastern Cooperative Oncology Group performance status
PFS
Progression-free survival
RECIST
Response Evaluation Criteria in Solid Tumors
Background
Based on these observations, we conducted a retrospective cohort study to investigate the association of anti-angiogenesis related AEs with clinical outcomes in metastatic GC patients, using data from phase II and III trials. More specifically, we aimed to investigate whether HTN, proteinuria, and HFS during the first cycle of apatinib treatment could predict longer OS of metastatic GC patients and serve as a biomarker of antitumor efficacy.
Methods
To investigate the relationship between adverse effects and antitumor efficacy, we pooled data from 269 apatinib-treated metastatic GC patients in the two prospective multicenter clinical trials [
8
,
9
]. One study was a randomized, double-blind, placebo-controlled phase II trial [
8
] in which 93 patients received oral apatinib 850 mg once daily or 425 mg twice daily. The other study was a randomized, double-blind, placebo-controlled phase III trial [
9
], and 176 patients in the treatment arm of this study received apatinib 850 mg once daily. One treatment cycle was 28 days long. Treatment interruptions, dose reductions, and supportive care were allowed for the management of AEs.
Eligibility criteria for all patients in the present analyses included age between 18 and 70 (inclusive) years; histologically confirmed advanced GC or metastatic GC (including gastroesophageal junction adenocarcinoma); prior lack of response or intolerance to at least two lines of chemotherapy; at least one measurable lesion as defined by Response Evaluation Criteria in Solid Tumors (RECIST); an Eastern Cooperative Oncology Group performance status (ECOG PS) of 0 or 1; and acceptable hematologic, hepatic, and renal function. Patients with uncontrolled blood pressure on medication (> 140/90 mmHg), those with a bleeding tendency, and those receiving thrombolytics or anticoagulants were excluded.
Tumor assessments were performed based on computed tomography and/or magnetic resonance imaging at baseline, after cycles two and three, and every 8 weeks thereafter until disease progression and were evaluated according to RECIST (version 1.0 [
11
] in phase II trial and 1.1 [
12
] in phase III trial). Efficacy measures included OS, PFS, objective response rate (ORR; including rate of complete response plus partial response), and disease control rate (DCR; including complete response, partial response, and stable disease). AEs (classified and graded using the National Cancer Institute Common Terminology Criteria for Adverse Effects version 3.0 [
13
]) were assessed at baseline until at least 28 days after the last dose of study drug was administered.
The primary exposure was the presence of any of the three AEs (HTN, proteinuria, and HFS) in the first 4 weeks of treatment. The cut-off was chosen at 4 weeks (1 cycle) after initiation of therapy because of high prevalence in the first 4 weeks and clinical relevance that efficacy measurements and change of treatment plans usually occur according to cycles. Other exposures of interest included different times of onset and different combinations of AEs. Baseline characteristics were compared using
t
test, Wilcoxon rank sum test, chi-square test, and Fisher exact test.
The primary outcome was OS, defined as time from random assignment to death or withdrawal or end of study, whichever occurred first. Secondary outcomes included PFS, DCR, and ORR. Time-to-event endpoints were assessed using Kaplan–Meier methods and compared between groups using the log-rank test. Cox proportional hazard regression models were used to estimate hazard ratios (HR). Proportional hazard assumption was assessed by including the exposure as a time-dependent covariate. Binary endpoints were assessed using logistic regression models. Potential confounders including age, sex, ECOG PS, and number of metastatic sites were adjusted in multivariable regression models. Effect modification by age, sex, and ECOG PS were tested by including interaction terms in the analyses.
To avoid the bias caused by the time-dependent definition of exposures of interest, landmark analyses were performed by excluding subjects who died or had disease progression or death before the landmark (set at 1 month after initiation of apatinib therapy) from the OS and PFS analyses, respectively, as sensitivity analyses.
A predictive model was developed using Cox proportional hazards, with each factor investigated in univariate and then multivariate analyses with a forward stepwise algorithm. Factors in the univariate analysis with a
P
value of less than 0.01 were entered into the multivariate model. Risk scores were calculated according to the model. Calibration and discrimination were evaluated [
14
].
Missing values were handled using complete case analysis for exposure and outcomes and available case analysis for other covariates. Two-sided tests were used, and a
P
value < 0.05 was considered statistically significant. All statistical analyses were carried out with Stata 14.0, R 3.0 and Revman 5.
Results
Throughout the follow-up till 28 days after the last dose of apatinib, no patient had grade 4 (life-threatening or disabling) or grade 5 (death) HTN, proteinuria, or HFS, and only 26 patients (9.67%) developed grade 3 (severe) HTN, proteinuria, or HFS. The AEs were manageable and reversible after treatment interruptions, dose reductions, and supportive care, supporting the tolerability and acceptability of AEs as a biomarker of efficacy.
Discussion
A challenge to the use of apatinib is the need to find biomarkers to predict drug efficacy. In this retrospective cohort analysis, apatinib treatment-induced HTN, proteinuria, and HFS during the first cycle of treatment was associated with statistically significant and clinically meaningful improvement in clinical outcomes, including more than 2-month increase in OS, almost 1-month increase in PFS, and 167% increase in DCR. These findings support the hypothesis that early presence of apatinib treatment-induced AEs is a viable biomarker of antitumor efficacy in metastatic GC patients.
Conclusions
In conclusion, the presence of HTN, proteinuria, or HFS during the first cycle of apatinib treatment correlates with clinical outcomes in GC patients. Prospective studies are warranted in the validation of the presence of these AEs as a biomarker for apatinib antitumor efficacy.
Acknowledgements
We sincerely thank Jiangsu Hengrui Medicine Co., Ltd., for providing us with the original data.
Funding
This study is funded by the Shanghai Sailing Program of the Science and Technology Commission of Shanghai Municipality (17YF141900). The funding body has no role in the design, analysis, or writing of the study.
Availability of data and materials
The datasets used and/or analyzed during the current study are available from JL on reasonable request.
Ethics approval and consent to participate
This study was determined as Not Human Subjects Research by Harvard T. H. Chan School of Public Health Office of Human Research Administration (IRB16-1248, 08/04/2016).
Consent for publication
Not applicable.
Competing interests
The authors declare that they have no competing interests.
Publisher's Note
Springer Nature remains neutral with regard to jurisdictional claims in published maps and institutional affiliations.
Open Access
This article is distributed under the terms of the Creative Commons Attribution 4.0 International License (
http://​creativecommons.​org/​licenses/​by/​4.​0/​
), which permits unrestricted use, distribution, and reproduction in any medium, provided you give appropriate credit to the original author(s) and the source, provide a link to the Creative Commons license, and indicate if changes were made. The Creative Commons Public Domain Dedication waiver (
http://​creativecommons.​org/​publicdomain/​zero/​1.​0/​
) applies to the data made available in this article, unless otherwise stated.