28.03.2019 | Original Article | Ausgabe 7/2019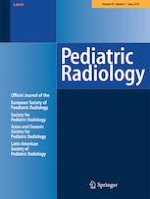 Early proton magnetic resonance spectroscopy during and after therapeutic hypothermia in perinatal hypoxic–ischemic encephalopathy
Zeitschrift:
Autoren:

Ashley M. Lucke, Anil N. Shetty, Joseph L. Hagan, Allison Walton, Tiffany D. Stafford, Zili D. Chu, Christopher J. Rhee, Jeffrey R. Kaiser, Magdalena Sanz Cortes
Wichtige Hinweise
Publisher's note
Springer Nature remains neutral with regard to jurisdictional claims in published maps and institutional affiliations.
Abstract
Background
Hypoxic–ischemic encephalopathy (HIE) remains a significant cause of mortality and neurodevelopmental impairment despite treatment with therapeutic hypothermia. Magnetic resonance H1-spectroscopy measures concentrations of cerebral metabolites to detect derangements in aerobic metabolism.
Objective
We assessed MR spectroscopy in neonates with HIE within 18–24 h of initiating therapeutic hypothermia and at 5–6 days post therapeutic hypothermia.
Materials and methods
Eleven neonates with HIE underwent MR spectroscopy of the basal ganglia and white matter. We compared metabolite concentrations during therapeutic hypothermia and post-therapeutic hypothermia and between moderate and severe HIE.
Results
During therapeutic hypothermia, neonates with severe HIE had decreased basal ganglia N-acetylaspartate (NAA; 0.62±0.08 vs. 0.72±0.05;
P
=0.02), NAA + N-acetylaspartylglutamate (NAAG; 0.66±0.11 vs. 0.77±0.06;
P
=0.05), glycerophosphorylcholine + phosphatidylcholine (GPC+PCh; 0.28±0.05 vs. 0.38±0.06;
P
=0.02) and decreased white matter GPC+PCh (0.35±0.13 vs. 0.48±0.04;
P
=0.02) compared to neonates with moderate HIE. For all subjects, basal ganglia NAA decreased (−0.08±0.07;
P
=0.01), whereas white matter GPC+PCh increased (0.03±0.04;
P
=0.04) from therapeutic hypothermia MRI to post-therapeutic-hypothermia MRI. All metabolite values are expressed in mmol/L.
Conclusion
Decreased NAA and GPC+PCh were associated with greater HIE severity and could distinguish neonates who might benefit most from targeted additional neuroprotective therapies.