11.11.2017 | Original Article – Clinical Oncology | Ausgabe 2/2018 Open Access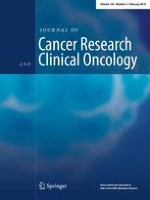 Early recurrence in patients undergoing curative resection of colorectal liver oligometastases: identification of its clinical characteristics, risk factors, and prognosis
Zeitschrift:
Autoren:

Junzhong Lin, Jianhong Peng, Yixin Zhao, Baojia Luo, Yujie Zhao, Yuxiang Deng, Qiaoqi Sui, Yuanhong Gao, Zhifan Zeng, Zhenhai Lu, Zhizhong Pan
Wichtige Hinweise
Junzhong Lin, Jianhong Peng, and Yixin Zhao have contributed equally to this work.
Abstract
Purpose
Oligometastatic disease can potentially be cured when an optimal approach is performed. Early recurrence after liver resection is an intractable problem, and the clinical implications remain unknown in colorectal liver oligometastases (CLOM) patients. This study aimed to investigate the clinical characteristics, risk factors, and prognosis related to early recurrence in these patients.
Methods
A total of 307 consecutive patients with CLOM undergoing curative liver resection were retrospectively reviewed between September 1999 and June 2016. Early recurrence was defined as any recurrence or death from CLOM that occurred within 6 months of liver resection.
Results
With a median follow-up time of 31.7 months, the 3-year overall survival (OS) and recurrence-free survival rates were 68.7 and 42.5%, respectively. Forty-nine (16.0%) patients developed early recurrence and showed a poorer 3-year OS than those with non-early recurrence (22.3 vs. 75.8%,
P
< 0.001) or later recurrence (22.3 vs. 52.8 vs. 63.2%,
P
< 0.001). Moreover, early recurrence was identified as an independent predictor of 3-year OS [hazard ratio (HR) 6.282; 95% confidence interval (CI) 3.980–9.915,
P
< 0.001]. In multivariate analysis, a node-positive primary tumor [odds ratio (OR) 2.316; 95% CI 1.097–4.892,
P
= 0.028) and metastatic diameter > 3 cm (OR 2.560; 95% CI 1.290–5.078;
P
= 0.007) were shown to be risk factors for early recurrence. The salvage liver resection rate for patients with early recurrence was significantly lower than that for patients with later recurrence (4.1 vs. 19.7%,
P
= 0.010).
Conclusions
Early recurrence should be investigated in routine clinical practice, even in patients with CLOM after curative liver resection. Detailed preoperative comprehensive measurements might help stratify high-risk patients, and a non-surgical treatment for early recurrence might represent an effective alternative.