04.02.2020 | Original Article | Ausgabe 3/2020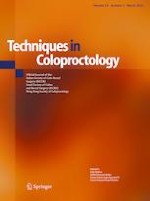 Early secondary repair of obstetric anal sphincter injury: postoperative complications, long-term functional outcomes, and impact on quality of life
Zeitschrift:
Autoren:

M. Barbosa, M. Glavind-Kristensen, P. Christensen
Wichtige Hinweise
Publisher's Note
Springer Nature remains neutral with regard to jurisdictional claims in published maps and institutional affiliations.
Abstract
Background
An early secondary repair of the anal sphincter may be necessary if primary repair of obstetric anal sphincter injury (OASIS) is complicated by wound rupture or severe infection. The objective of this study was to assess the long-term functional outcomes, morbidity, and impact on quality of life (QoL) following an early secondary repair of OASIS.
Methods
This retrospective cohort study was conducted at Aarhus University Hospital, Denmark. All women having a secondary repair of the anal sphincter within 21 days of delivery from February 1991 to February 2017 were included (
n
 = 51). Complications were assessed by reviewing medical records. The patient-reported outcomes were assessed in 2018 by questionnaires. Primary outcome was Wexner score and St. Mark's score. Impact on QoL was assessed using the Fecal Incontinence Quality of Life Scale (FIQLS).
Results
After a median follow-up time of 6.7 years (IQR 3.3–16.6), 34 women completed the questionnaire. The mean (SD) Wexner score was 5.2 ± 4.7 and the mean (SD) St. Mark's score was 6.8 ± 5.7. Women with a Wexner score ≥ 9 had a significantly lower QoL score in all domains of the FIQLS compared to women with a Wexner score < 9 (
p
 < 0.001). Postoperative complications were experienced by 37%. Ten women developed a fistula of which nine required surgical treatment.
Conclusions
An early secondary repair of the anal sphincter can be performed within 21 days of delivery with functional long-term outcomes comparable to those following a late sphincter repair. However, there is an imminent risk of complications, mainly fistulas, which should be taken into consideration when choosing the ideal timing of the repair.