04.07.2019 | Case Report | Ausgabe 6/2019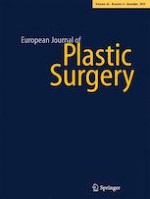 Eccrine porocarcinoma of the scalp: diagnosis and importance of early surgical intervention
Zeitschrift:
Autoren:

Maxime De Fré, Katrien Smets, Michal Ulicki, Veronique Verhoeven, Vasiliki Siozopoulou, Tine Strobbe, Specenier Pol, Olivier Aerts, Julien Lambert, Thierry Tondu, Filip E. F. Thiessen
Wichtige Hinweise
Maxime De Fré and Katrien Smets contributed equally to this work.
Publisher's note
Springer Nature remains neutral with regard to jurisdictional claims in published maps and institutional affiliations.
Abstract
Eccrine porocarcinoma is a rare and potentially fatal malignant adnexal tumor that can arise de novo or develop from its benign precursor, poroma. Diagnosis is difficult due to its rarity and resemblance to many other (benign) skin tumors. We present the case of a 71-year-old woman presenting with a long-standing case of eccrine porocarcinoma on the scalp. After multiple incomplete excisions over the last 15 years, no metastases were found. Major reconstructive surgery was necessary after complete excision of the lesion. Complete removal of the eccrine porocarcinoma was achieved in 2 stages. The defect was closed with a large rotation flap of the scalp. No adjuvant radio- or chemotherapy was given. Twenty-one months later, the patient presented with a rapidly growing lymph node recurrence, which was treated by lymph node dissection followed by chemoradiation. This case demonstrates the consequences of suboptimal surgical treatments and follow-up of eccrine porocarcinoma and its benign precursor, poroma. Early recognition, proper pathological diagnosis, and adequate surgical treatment are highly recommended in order to obtain a good prognostic outcome.
Level of evidence: Level V, Risk/Prognostic study.