01.12.2018 | Research | Ausgabe 1/2018 Open Access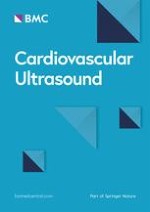 Echocardiographic characteristics of primary malignant pericardial mesothelioma and outcomes analysis: a retrospective study
Zeitschrift:
Autoren:

Lingyun Kong, Ziwang Li, Jingrui Wang, Xiuzhang Lv
Abstract
Background
Little is known about the echocardiographic characteristics of primary malignant pericardial mesothelioma (PPM) due to its rarity. The aim of this study was to explore the sex-specific echocardiographic patterns of PPM and risk factors for in-hospital mortality.
Methods
A retrospective information retrieval was conducted for cases of PPM reported from China during 1981 and 2015. The diagnosis was made by histopathological examinations and only cases with echocardiographic descriptions were included. Data on the clinical and echocardiographic findings were collected. Difference in clinical, sex-specific echocardiographic characteristics and findings across different time periods were assessed. Logistic regression analysis was performed to explore echocardiographic risk factors for in-hospital mortality.
Results
A total of 64 patients with PPM were included, with a mean age of 39.2 ± 15.6 years and minor male dominance (40, 62.5%). The most common echocardiographic presentations were pericardial effusion (55, 85.9%), pericardial masses (36.4%) and thickening (17.3%), respectively. The positive rate of pericardiocentesis was only 20.9%. Six patients (15.4%) died among 39 cases reporting in-hospital outcome. Logistics analysis identified no clinical or echocardiographic parameters associated with in-hospital mortality (all
P
 > 0.05).
Conclusions
The echocardiographic signs of PPM are basically nonspecific with massive pericardial effusion as the most common sign, although no echocardiographic gender differences or association with in-hospital mortality could be identified.