01.12.2018 | Case report | Ausgabe 1/2018 Open Access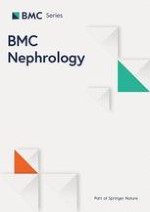 Eculizumab as salvage therapy for recurrent monoclonal gammopathy-induced C3 glomerulopathy in a kidney allograft
Zeitschrift:
Autoren:

Philipp Moog, Philipp J. Jost, Maike Büttner-Herold
Abstract
Background
Monoclonal gammopathy causes several kinds of renal pathology. A rare and special form is monoclonal gammopathy-induced C3 glomerulopathy (MG-C3G). Like idiopathic C3G, MG-C3G frequently leads to end-stage renal disease. MG-C3G frequently recurs after renal transplantation, leading to graft failure in most of the patients. While there is some evidence for successful treatment of recurrent idiopathic C3 glomerulopathy with eculizumab after renal transplantation, nothing is known about its efficacy in the setting of recurrent MG-C3G.
Case presentation
We report a patient with recurrent MG-C3G in a renal allograft that was successfully treated with eculizumab in addition to standard immunosuppression. He had early recurrence of MG-C3G 2 months after transplantation. His graft function successively declined despite high dose steroids and plasmapheresis. Only after therapy with three cycles of bortezomib and continuous therapy with eculizumab, his graft function stabilized. He was still in clinical remission after 28 months of follow-up without having experienced major infectious complications.
Conclusions
Eculizumab may be a safe and effective treatment of recurrent MG-C3G. Because of the high and early recurrence risk, renal transplantation should be reviewed carefully for every individual patient. Subsequent hematopoietic stem cell transplantation may ameliorate long-term renal allograft survival. Eculizumab might serve as a bridging therapy until stem cell transplantation.