01.12.2015 | Research article | Ausgabe 1/2015 Open Access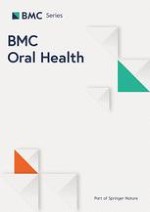 Edentulism and quality of life among older Ghanaian adults
Zeitschrift:
Autoren:

Sandra A Hewlett, Alfred E Yawson, Benedict NL Calys–Tagoe, Nirmala Naidoo, Pamela Martey, Somnath Chatterji, Paul Kowal, George Mensah, Nadia Minicuci, Richard B Biritwum
Wichtige Hinweise
Competing interests
The authors declare no competing interest financial and nonfinancial. The views expressed in this paper are those of the authors. No official endorsement by the World Health Organization or Ministry of Health of Ghana/Ghana Health Service is intended or should be inferred.
Authors' contributions
SAH, AEY and BNLCT developed the concept, AEY, NN, SC, PK, GM, NM and RBB are members of the WHO Multi-country SAGE Study Team involved in the conduct and analysis of the SAGE survey in Ghana. SAH, AEY, BNLCT, GM and PM contributed to the writing and reviewing of the various sections of the manuscript. All the authors reviewed the final version of the manuscript before submission. All authors read and approved the final manuscript.
Authors' information
Sandra Hewlett is a University lecturer and a specialist Dental surgeon at the University of Ghana Dental School. Alfred Yawson, Benedict Calys-Tagoe, and Richard Biritwum are Specialist Public Health Physicians and lecturers at the University of Ghana Medical School, Pamela Martey is a Pediatrician at the Komfo Anokye Teaching Hospital, Kumasi, Ghana. Alfred Yawson, George Mensah, Nadia Minicuci and Richard Biritwum are members of the WHO Multi-country SAGE Team who conducted the SAGE Survey in Ghana. Nirmala Naidoo, Somnath Chatterji and Paul Kowal are members of the WHO Multi-country SAGE Team and coordinators of the multi-country study at the WHO Headquarters in Geneva.
Abstract
Background
Edentulism affects the quality of life and general health of an individual. But in ageing individuals, it has been observed to have greater impact, manifesting in functional, psychological and social limitations. With an increasing older adult population in Ghana, its burden is likely to increase. This study was thus carried out to explore the association between edentulism and quality of life among older Ghanaian adults.
Methods
Secondary analysis of WHO's Study on global AGEing and adult health (SAGE) Wave 1 in Ghana was conducted using self-reported edentulism as the dependent variable. Participants included a nationally representative sample of adult's aged 50 years and older living in Ghana. Quality of life was measured using the 8 item WHOQOL measure and a single item measure which was a question "How would you rate your overall quality of life?". To assess the association between edentulism and the independent variables, a bivariate analysis was carried out. A Poisson regression model was then performed, adjusting for age, sex, income, education and the diagnosis of a chronic disease condition. A Spearman's correlation analysis was also carried out between the single and multi item measure of quality of life to assess how well they correlate.
Results
Edentulism was observed to be associated with significantly lower levels of SWB among older adults using both the single-item and multiple-item measure (WHOQOL). It, however, showed no association with happiness. Among edentulous respondents, females and those with no formal education reported significantly lower quality of life. The WHOQOL correlated positively and strongly with the single-item measure.
Conclusion
Edentulism may not be life threatening and yet it has been shown to have a negative effect on the quality of life of older adult Ghanaians. More emphasis may thus need to be placed on the oral health of the aging population in Ghana to avoid it.