18.08.2017 | Original Article | Ausgabe 1/2018 Open Access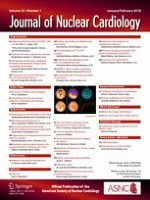 Effect of a patient-specific minimum activity in stress myocardial perfusion imaging using CZT-SPECT: Prognostic value, radiation dose, and scan outcome
Zeitschrift:
Autoren:

MSc, PhD J. D. van Dijk, MD N. M. Borren, MD, PhD M. Mouden, PhD J. A. van Dalen, MD, PhD J. P. Ottervanger, MD, PhD P. L. Jager
Wichtige Hinweise
Electronic supplementary material
The online version of this article (doi:
10.​1007/​s12350-017-1011-z
) contains supplementary material, which is available to authorized users.
The authors of this article have provided a PowerPoint file, available for download at SpringerLink, which summarizes the contents of the paper and is free for re-use at meetings and presentations. Search for the article DOI on SpringerLink.com.
JNC thanks Erick Alexanderson MD, Carlos Guitar MD, and Diego Vences MD, UNAM, Mexico, for providing the Spanish abstract; Haipeng Tang MS, Zhixin Jiang MD, and Weihua Zhou PhD, for providing the Chinese abstract; and Jean-Luc Urbain, MD, PhD, CPE, Past President CANM, Chief Nuclear Medicine, Lebanon VAMC, PA, for providing the French abstract.
Abstract
Background
SPECT Myocardial perfusion imaging (MPI) is associated with a relatively high radiation burden and decreasing image quality in heavy patients. Patient-specific low-activity protocols (PLAPs) are suggested but follow-up data is lacking. Our aim was to compare the use of a standard fixed-activity protocol (FAP) with a PLAP in cadmium zinc telluride (CZT)-SPECT MPI.
Methods
We retrospectively included 1255 consecutive patients who underwent CZT-SPECT stress-optional rest MPI. 668 Patients were scanned using FAP (370 MBq) and 587 patients using PLAP (2.25 MBq·kg−1). Percentage of scans interpreted as normal, radiation dose, and 1-year follow-up including hard event rates (all-cause death or non-fatal myocardial infarction) were collected and compared.
Results
The percentage of scans interpreted as normal was 67% in FAP and 70% in PLAP groups (
P
= .29). The annualized hard event rates in these patients were 1.0% in the FAP and 0.9% in the PLAP group (
P
= .86). However, the mean radiation dose decreased by 23% for stress-only and by 15% to 2.6 mSv for stress-optional rest MPI after introduction of the PLAP (p<0.001).
Conclusions
Introduction of a patient-specific low-activity protocol does not affect the percentage of scans interpreted as normal or prognosis but significantly lowers the radiation dose for CZT-SPECT MPI.