06.04.2018 | ORIGINAL ARTICLE | Ausgabe 2/2018 Open Access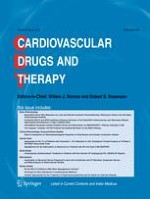 Effect of Antazoline on Electrophysiological Properties of Atrial Muscle and Conduction System of the Heart
Zeitschrift:
Autoren:

Bartłomiej Jacek Bińkowski, Marcin Makowski, Paweł Kubiński, Andrzej Lubiński
Abstract
Purpose
Antazoline is a first-generation antihistaminic agent with additional anticholinergic properties and antiarrhythmic potential. Recent data shows its high effectiveness in sinus rhythm restoration among patients with paroxysmal atrial fibrillation. The effect of antazoline on electrophysiological parameters of the heart in vivo has not yet been examined. The aim of this study was to evaluate changes in electrophysiological parameters of the heart muscle and conduction system as a response to increasing doses of antazoline.
Methods
After successful ablation of supraventricular arrhythmias, the electrophysiological parameters: sinus rhythm cycle length (SRCL), AH, HV, QRS, QT, QTc intervals, Wenckebach point (WP), sinus node recovery period (SNRT), intra- (hRA-CSos) and interatrial conduction time (hRA-CSd), right and left atrium refractory period (RA-; LA-ERP), and atrioventricular node refractory period (AVN-ERP) were assessed initially and after 100, 200, and 300 mg of antazoline given intravenously.
Results
Fifteen patients (8 males, 19–72 years old) undergoing EPS and RF ablation were enrolled. After 100 mg bolus, a significant reduction in SRCL was noticed. After antazoline administration, significant prolongation of HV, QRS, QTc, hRA-CSos, hRA-CSd intervals, RA– and LA-ERP and reduction of SRCL were observed. After a total dose of 300 mg, QT interval prolonged significantly. Increasing the dose of antazoline had no impact on AH, Wenckebach point, AVN-ERP, and SNRT.
Conclusion
Antazoline has an effect on electrophysiological parameters of the atrial muscle and has rapid onset of action. No negative effect on sinus node function and atrioventricular conduction in a unique property among antiarrhythmic drugs.