01.09.2009 | Original Article | Ausgabe 9/2009 Open Access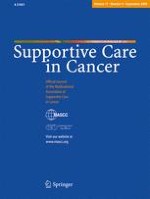 Effect of casopitant, a novel NK-1 antagonist, on the pharmacokinetics of dolasetron and granisetron
Zeitschrift:
Autoren:

Laurel M. Adams, Brendan Johnson, Ke Zhang, Lin Yue, Lyndon C. Kirby, Peter Lebowitz, Randall Stoltz
Wichtige Hinweise
Presented as an invited lecture at the Supportive Care in Cancer MASCC/ISOO 2008 International Symposium in Houston, TX, USA on June 26–28, 2008
This work was sponsored by GlaxoSmithKline. R Stoltz received funding from GlaxoSmithKline to conduct this study. All other authors were employees of GlaxoSmithKline.
Abstract
Objective
The objective of this study was to characterize the impact of casopitant, a novel neurokinin-1 receptor antagonist under investigation for the prevention of postoperative and chemotherapy-induced nausea and vomiting, on the pharmacokinetics of the commonly prescribed 5-hydroxytryptamine receptor 3 receptor antagonists, dolasetron or granisetron.
Materials and methods
In a phase I, open-label, two-part, two-period, single-sequence study, two cohorts of healthy subjects received either oral dolasetron (100 mg once daily for 3 days) or oral granisetron (2 mg once daily for 3 days) alone (period 1) and combined with oral casopitant, 150 mg day 1, 50 mg days 2 and 3 (period 2). Pharmacokinetics of hydrodolasetron and granisetron were assessed on days 1 and 3 of each period. Log-transformed area under the curve (AUC) and Cmax were statistically analyzed by performing an analysis of variance. Eighteen subjects were enrolled in the dolasetron cohort; nine subjects were CYP2D6 extensive metabolizers (EMs) and nine subjects were CYP2D6 poor metabolizers. Nineteen subjects were enrolled in the granisetron cohort.
Results
The largest changes in hydrodolasetron exposure after coadministration with casopitant were seen in CYP2D6 EMs, with a 24% increase in hydrodolasetron AUC on day 1 and 30% increase in Cmax on days 1 and 3. All other changes in hydrodolasetron exposure were <20%, and granisetron exposure was not altered to any relevant extent (<11%).
Conclusion
None of the changes observed are considered clinically meaningful, and coadministration of casopitant with dolasetron or granisetron was well tolerated.