01.09.2009 | Brief Report | Ausgabe 9/2009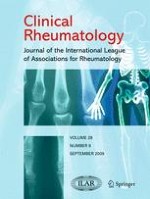 Effect of comorbidity on quality of life of male veterans with prevalent primary total knee arthroplasty
Zeitschrift:
Autor:

Jasvinder A. Singh
Wichtige Hinweise
Role of the funding agency
The funding agencies had no influence on the manuscript preparation or the decision to submit it for publication. The authors are fully responsible for data analyses and for the preparation and revision of the manuscript.
The views expressed in this article are those of the authors and do not necessarily reflect the position or policy of the Department of Veterans Affairs.
Abstract
This is a study of the impact of specific and overall comorbidity on health-related quality of life (HRQoL) in men with primary total knee arthroplasty (TKA). In a population-based sample of male veterans who responded to a cross-sectional survey using the validated short-form 36 for veterans (SF-36 V) and had undergone primary TKA prior to survey, eight SF-36 V domain and two summary scores (physical and mental component (PCS and MCS) summary) were compared using multivariable-adjusted multiple linear regressions between patients with and without five comorbidities—chronic obstructive pulmonary disease (COPD)/asthma, diabetes, depression, hypertension, and heart disease. Analyses were adjusted for age, five comorbidities, and time since TKA. Two hundred ninety-three male patients constituted the analytic set with mean (SD) age of 70.3 (8.8) years; 97% were Caucasian and mean (SD) duration since TKA was 2.1 (0.7) years. COPD/asthma was associated with significantly lower adjusted MCS (mean ± standard error of mean, 47.1 ± 0.7 vs. 43.1 ± 1.2;
p
 ≤ 0.001) and PCS (30.1 ± 0.6 vs. 27.7 ± 1.0;
p
 < 0.05), depression with significantly lower MCS (48.9 ± 0.7 vs. 37.6 ± 1.2;
p
 ≤ 0.001) but not PCS, hypertension with significantly lower MCS (47.0 ± 0.7 vs. 44.3 ± 1.0;
p
 < 0.05) but not PCS, and heart disease with significantly lower MCS (47.4 ± 0.8 vs. 44.2 ± 0.9;
p
 ≤ 0.001) and PCS (30.5 ± 0.7 vs. 28.1 ± 0.8;
p
 < 0.05). Diabetes was not associated with lower MCS or PCS. The overall number of comorbidities was associated with lower MCS and PCS (
p
 ≤ 0.001 for both). Medical and psychiatric comorbidity impacts physical and mental/emotional HRQoL in patients with primary TKA. The impact differs by comorbidity. Higher comorbidity load negatively impacts both physical and mental/emotional HRQoL.