01.12.2015 | Research article | Ausgabe 1/2015 Open Access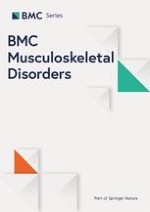 Effect of distraction osteogenesis in patient with tibial shortening after initial union of Congenital Pseudarthrosis of the Tibia (CPT): a preliminary study
Zeitschrift:
Autoren:

Guang-hui Zhu, Hai-bo Mei, Rong-guo He, Kun Liu, Jin Tang, Jiang-yan Wu
Wichtige Hinweise
Competing interests
The authors declare that they have no competing interests.
Authors' contributions
GZ accountable for the integrity and analysis of the data, and the writing of the manuscript, HM accountable for the conception and execution of the research. RH accountable for the execution of the research, KL accountable for the execution of the research, JT accountable for the analysis and interpretation of data, JW accountable for the conception and execution of the research. All authors read and approved the final manuscript.
Abstract
Background
The purpose of our retrospective study was to evaluate the preliminary result of distraction osteogenesis in patient with tibial shortening after initial union of Congenital Pseudarthrosis of the Tibia (CPT).
Methods
All the CPT cases with tibial shortening after initial union managed by proximal tibial lengthening using Ilizarov technique were identified. All the patient charts and radiograms were reviewed.
Results
Between March 2007 and January 2012, 11 CPT cases were included with an average follow-up of 41 months (range, 34–51 months). The mean age at surgery was 8.5 years (range, 3.9–14.5y). The average length of discrepancy was 5.6 cm (range, 2.0–8.2 cm). Eight (8) cases had radiological findings of proximal tibial dysplasia, while the other 3 cases had not. The average distraction length gained was 5.3 cm (range, 3.5–8.0 cm) with a mean elongation rate of 21.4 % (range, 15–30 %). The Healing Index (HI) was 63.1 d/cm (range, 47–77 d/cm). In the 8 patients with proximal tibial dysplasia, 5 cases had lateral callus, 3 had central callus, and poor bone regeneration was observed in all of them with an average HI of 67 d/cm. In the other 3 patients without proximal tibial dysplasia, concave shaped callus was identified with an average HI of 52.7 d/cm. None of the patients had re-fracture, nonunion, axis deviation or angulation of the distraction area. Ankle joint stiffness was found in 2 of the patients. No evidence of knee contracture was detected. There were 5 cases with pin-tract infection which was managed by pin-tract nurse and oral administration of antibiotics.
Conclusions
We concluded that proximal tibial lengthening after initial union of CPT was effective for management of tibial shortening, however it was characterized by poor bone regeneration with different types of callus from normal, greater healing index and prolonged fixator wearing. We recommended that tibial lengthening could be considered when the limb length discrepancy (LLD) was more than 4 cm in younger children after primary union of CPT.