01.03.2012 | Original Research | Ausgabe 3/2012 Open Access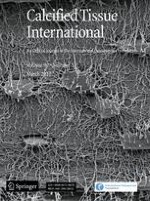 Effect of Dosing Interval Duration of Intermittent Ibandronate Treatment on the Healing Process of Femoral Osteotomy in a Rat Fracture Model
Zeitschrift:
Autoren:

Takeshi Manabe, Satoshi Mori, Tasuku Mashiba, Yoshio Kaji, Ken Iwata, Satoshi Komatsubara, Tetsuji Yamamoto
Wichtige Hinweise
The authors have stated that they have no conflict of interest.
Abstract
The effects of bisphosphonate treatment schedule on fracture healing have not previously been tested. We evaluated the effect of ibandronate dosing interval duration on healing following surgical "fracture" (osteotomy) using a rat femoral fracture model. Six-week-old rats (
n
= 160) underwent osteotomy and were then allocated into vehicle control (CNT) or an ibandronate treatment group: 5 μg/kg daily (DAY, 5 days/week), 75 μg/kg once every 3 weeks (I-3), 150 μg/kg once every 6 weeks (I-6), resulting in the same total ibandronate dose over the study. Rats were killed after 6 or 18 weeks. At 18 weeks, all fracture lines had disappeared in the CNT and I-6 groups; approximately 10% of fracture lines remained in the DAY and I-3 groups. Ibandronate-treated groups showed large callus areas around the fractures, which shrank between 6 and 18 weeks after surgery; the extent of shrinkage decreased with shorter dosing interval. In histomorphometry, callus remodeling was suppressed by ibandronate; this became more apparent at shorter dose intervals. The structural properties of osteotomized femora were increased in the DAY group compared with CNT, but intrinsic material properties reduced inversely and became closer to those of CNT in response to increased dosing interval. Ibandronate induced formation of large calluses around osteotomies but delayed woven bone remodeling into lamellar bone and reduced intrinsic material properties in a rat fracture model. Extending the dosing interval of intermittent ibandronate treatment appeared to reduce the suppression of callus remodeling caused by ibandronate, which would have delayed healing after osteotomy.