01.12.2010 | Ausgabe 5-6/2010 Open Access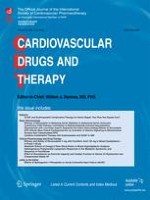 Effect of Dronedarone on Exercise Capacity and Cardiac Function in Patients With Severe Left Ventricular Dysfunction and Compensated Stable Heart Failure
Zeitschrift:
Autoren:

T. Barry Levine, Thomas Giles, David Radzik, Jalal K. Ghali
Wichtige Hinweise
Clinical Trial Registration: Trial conducted between 1996 and 1998 and not included in a clinical trials registration database.
Abstract
Purpose
Dronedarone is a novel multichannel blocker with antiadrenergic and vasodilatory properties. The aim of this study was to investigate the effects of dronedarone on functional capacity in patients with severe left ventricular (LV) dysfunction and compensated stable heart failure (HF).
Methods
This was a multicentre, double-blind, randomized, placebo-controlled, dose-escalating study. Patients in sinus rhythm with impaired LV function (LV ejection fraction [LVEF] ≤ 30%) and compensated HF (New York Heart Association [NYHA] class I–II), who would continue to receive cardiovascular treatment (excluding antiarrhythmic agents), were eligible. A total of 124 patients were randomized to receive dronedarone (400 mg or 800 mg once daily or 600 mg twice daily) or placebo for 30 days. The primary objective was assessment of the effects of dronedarone on functional capacity, using the 6 min walk test. Secondary objectives included the effects of dronedarone on LVEF, cardiothoracic ratio, NYHA status, and Holter parameters.
Results
A total of 111 patients completed the study. There were no significant differences between dronedarone and placebo with respect to walking distance and LVEF. The cardiothoracic ratio was similar in all treatment groups throughout the study, and the NYHA status did not change in the majority of patients. Dronedarone was well tolerated and, as expected, decreased heart rate. No new arrhythmic events or torsades de pointes were reported.
Conclusions
Short-term treatment with dronedarone did not affect exercise capacity and did not decrease LVEF in patients with severe LV dysfunction and compensated HF.