22.03.2016 | Ausgabe 2/2017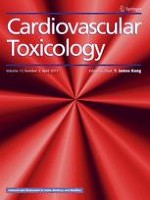 Effect of Enalapril on Preventing Anthracycline-Induced Cardiomyopathy
Zeitschrift:
Autoren:

Ghasem Janbabai, Maryam Nabati, Mohsen Faghihinia, Soheil Azizi, Samaneh Borhani, Jamshid Yazdani
Abstract
Anthracycline (ANT) is a topoisomerase-interacting agent that is used in most malignancy treatments. We investigated the efficacy of enalapril (angiotensin-converting enzyme inhibitor) in the prevention of ANT-induced cardiomyopathy. In this randomized, single-blind, and placebo-controlled study, 69 patients with a newly diagnosed malignancy for which ANT therapy was planned were randomly assigned to either a group receiving enalapril (
n
= 34) or placebo (
n
= 35). Echocardiography studies were performed before chemotherapy and at 6 months after randomization. Additionally, troponin I and creatinine kinase-MB (CK-MB) were measured 1 month after the initiation of chemotherapy. In the enalapril group, the mean left ventricular ejection fraction (LVEF) (
p
= 0.58) was the same at baseline and 6 months after randomization. Conversely, LVEF significantly decreased in the control group (
p
< 0.001). Additionally, LV end systolic volume and left atrial diameter were significantly increased compared with the baseline measures in the control group. According to the tissue Doppler study, the mitral annuli early diastolic (
e
′) and peak systolic (
s
′) velocities were significantly reduced, and the
E
(the peak early diastolic velocity)/
e
′ ratio was significantly increased in the control group. Furthermore, the TnI and CK-MB levels were significantly higher in the control group than in the enalapril group. Enalapril appears efficacious in preserving systolic and diastolic function in cancer patients treated with ANTs.