20.05.2016 | Original Article | Ausgabe 2/2017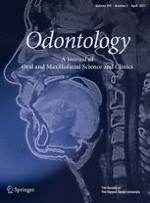 Effect of enamel sealants on tooth bleaching and on the color stability of the result
Zeitschrift:
Autoren:

N. Corcodel, A. J. Hassel, S. Sen, D. Saure, P. Rammelsberg, C. J. Lux, S. Zingler
Abstract
The purpose of this in vitro study was to evaluate the effect of enamel sealants on bleaching of natural teeth by use of 40 % hydrogen peroxide in a dental surgery. The color stability of the results from bleaching was, furthermore, determined 10 months after the bleaching procedure. In a standardized setting, four sealants (Pro Seal
®
, Light Bond™ Sealant, Protecto
®
, and Clinpro™ XT Varnish) were applied to and removed from human teeth in accordance with the manufacturer's instructions. Natural teeth served as medium; half of the teeth were sealed and the others served as controls. Hydrogen peroxide gel (40 %; Opalescence Boost; Ultradent Products, South Jordan, UT, USA) was used as bleaching agent. Color measurement was performed with a spectroradiometer (Photoresearch PR670) before the bleaching process (T1) and 24 h (T2) and 10 months (T3) after bleaching. The spectroradiometer results were expressed by use of the Commission Internationale de l'Éclairage (CIE)
L
*
a
*
b
* color notation. The
L
*,
a
*, and
b
* values of the sealed and the unsealed surfaces were not significantly different at any time during the study (
p
> 0.05), irrespective of the sealant used. Ten months after the bleaching process, mean
L
*,
a
*, and
b
* values were lower than at 1-day post-bleaching; the mean value of Δ
E
between 1-day post-bleaching and 10 months post-bleaching was 2.46 (±3.1). The results of the study suggest that the effectiveness of professional tooth whitening is not appreciably affected by the application of the four sealants tested.