30.12.2017 | Experimental Study | Ausgabe 3/2018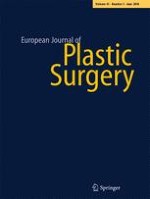 Effect of fresh human amniotic membrane on radiation-induced wounds in a murine experimental model
Zeitschrift:
Autoren:

Murat Diyarbakırlıoğlu, Semih Bağhaki, Alp Ercan, Sevgi Kurt Yazar, Aslı Gümüşel, Mehmet Cömert, Oğuz Çetinkale
Abstract
Background
Radiation-induced wounds are extremely difficult to treat. They may lead to severe infections and can even be life-threatening. Wound dressings, negative pressure wound treatment, hyperbaric oxygen therapy, and antibiotics are the main treatment modalities for radiation-induced wounds. Amniotic membrane is the innermost surface of the placenta. It has been shown that amniotic membrane induces re-epithelization, regulates angiogenesis, and decreases inflammation and fibrosis. Our proposed theory was that amniotic membrane can have a role in treating radiation-induced wounds by inducing epithelization and increasing wound tensile strength.
Methods
Out of 24 rats, 3 groups were composed. In group A, 21 days after one session of radiotherapy, a 2-cm incision was made on the gluteal region then an amniotic membrane was placed under the skin flaps. In group B, 21 days after one session of radiotherapy, a 2-cm incision made on the gluteal region and wound is sutured back after 2 × 2 cm of area was undermined. In group C, no radiotherapy is given. We just made an incision and sutured it back again with the same size of area undermined. Three weeks after these surgeries, wound regions were excised en bloc and taken out for biomechanical and histopathological assessments.
Results
The end results in amniotic membrane group (group A) were statistically higher than those in the other groups in the terms of wound healing and biomechanical measurements.
Conclusions
After biomechanical and histopathological evaluation, amniotic membrane, with its antimicrobial, anti-inflammatory, angiogenic, and epithelial-inductive effects, was found to be affective in post-radiation wound treatment. Due to the features of amniotic membrane mentioned above, it can be an option in treatment of patients which received neoadjuvant radiotherapy to prevent future wounds. It can also be used for the care and treatment of post-radiation wounds.
Level of Evidence: Not ratable