27.02.2019 | Original Scientific Report | Ausgabe 7/2019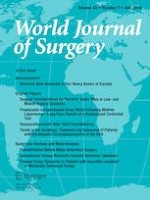 Effect of High Postoperative Body Temperature on Long-Term Prognosis in Patients with Gastric Cancer After Radical Resection
Zeitschrift:
Autoren:

Hua-Long Zheng, Jun Lu, Ping Li, Jian-Wei Xie, Jia-Bin Wang, Jian-Xian Lin, Qi-Yue Chen, Long-Long Cao, Mi Lin, Ru-Hong Tu, Ze-Ning Huang, Ju-Li Lin, Chao-Hui Zheng, Chang-Ming Huang
Wichtige Hinweise
Electronic supplementary material
Hua-Long Zheng and Jun Lu have contributed equally to this work and should be considered co-first authors.
Publisher's Note
Springer Nature remains neutral with regard to jurisdictional claims in published maps and institutional affiliations.
Abstract
Background
There is a lack of data on the effect of high postoperative body temperature on disease-free survival (DFS) in patients who underwent radical gastrectomy.
Methods
Patients who underwent radical gastrectomy from January 2006 to December 2011 were selected. The highest body temperature within 1 week after operation was used to establish diagnostic thresholds for high and low body temperature through X-tile software.
Results
A total of 1396 patients were included in the analysis. The diagnostic threshold for high body temperature was defined as 38 °C; 370 patients were allocated to the high-temperature group (HTG), while another 1026 patients were allocated to the low-temperature group (LTG). For all patients, survival analysis showed that 5-year DFS in the HTG was significantly lower than that for the LTG (55.6% vs 63.9%,
P
 = 0.007). Multivariate analysis revealed that high postoperative body temperature was an independent prognostic risk factor for 5-year DFS (HR = 1.288 (1.067–1.555),
P
 = 0.008). For patients without complications, survival analysis showed that the 5-year DFS rate in the HTG was lower than that for the LTG (57.5% vs 64.4%,
P
 = 0.051), especially in patients with stage III gastric cancer (31.3% vs 41.7%,
P
 = 0.037). For patients with complications or infectious complications, there were no significant differences between the HTG and LTG regarding 5-year DFS (49.3% vs 58.2%,
P
 = 0.23 and 49.4% vs 55.1%,
P
 = 0.481, respectively).
Conclusion
For stage III gastric cancer patients without complications, high postoperative body temperature can significantly reduce the 5-year DFS. These patients may benefit from more aggressive adjuvant therapy and postoperative surveillance regimens.