01.03.2012 | Original Paper | Ausgabe 3/2012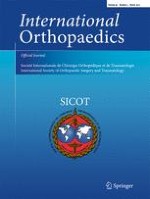 Effect of lactoferrin on osteogenic differentiation of human adipose stem cells
Zeitschrift:
Autoren:

Xiaozhou Ying, Shaowen Cheng, Wei Wang, Zhongqin Lin, Qingyu Chen, Wei Zhang, Dongquan Kou, Yue Shen, Xiaojie Cheng, Lei Peng, Hua zi Xu, Chuan zhu Lu
Wichtige Hinweise
Xiaozhou Ying and Shaowen Cheng contributed equally to this work.
Abstract
Purpose
Many in vitro studies of the analysis of the lactoferrin (LF) effect on cells have been reported. However, no study has yet investigated the effect of LF on osteogenic differentiation of human adipose-derived stem cells (hADSCs). The aim of this study was to evaluate the effect of LF on osteogenic differentiation of human adipose stem cells.
Methods
The hADSCs were cultured in an osteogenic medium with 0, 10, 50 and 100 μg/ml LF, respectively. hADSC proliferation was analysed by Cell Counting Kit-8 (CCK-8) assay, and cell osteogenic differentiation was evaluated by alkaline phosphatase (ALP) activity assay, von Kossa staining and real-time polymerase chain reaction (RT-PCR).
Results
Cell proliferation was significantly increased by LF in a dose-dependent manner from days 4 to 14. Cells cultured with 100 μg/ml LF presented a higher activity compared with the control. The deposition of calcium was increased after the addition of LF. The mRNA expression of type I collagen (COL-I), ALP, osteocalcin (OCN) and RUNX2 increased markedly as a result of LF treatment.
Conclusions
We have shown for the first time that LF could promote the proliferation and osteogenic differentiation of hADSCs, which could be a promising approach for enhancing osteogenic capacity of cell-based construction in bone tissue engineering.