01.12.2018 | Study protocol | Ausgabe 1/2018 Open Access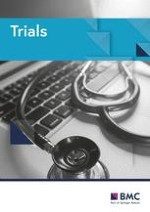 Effect of laparoscopy by single-port endoscopic access in benign adnexal surgery: study protocol for a randomized controlled trial
Zeitschrift:
Autoren:

Andy Schmitt, Patrice Crochet, Karine Baumstark, Claire Tourette, Sabine Poizac, Audrey Pivano, Léon Boubli, Ludovic Cravello, Aubert Agostini
Wichtige Hinweise
Electronic supplementary material
Abstract
Background
Laparoscopic surgery has become the preferred surgical approach due to a reduction in postoperative pain, better recovery, shorter hospitalization, and improved esthetic outcomes. Laparoscopic surgery with single-port laparoscopy (SPL) is a laparoscopic surgery technique that is based on making a single parietal incision using a single trocar specifically designed to allow introduction of several instruments. The level of evidence regarding the advantages of SPL in terms of postoperative pain has remained low despite several randomized studies. Adult patients exhibiting a surgical indication for an a priori benign ovarian pathology or for prophylactic purposes that can be performed by laparoscopy will be randomized to receive conventional laparoscopy (CL) or SPL. The aim of our study is to evaluate whether SPL offers advantages over CL in benign adnexal surgery.
Methods
The patients will be evaluated preoperatively to confirm their eligibility. The perioperative data up to 24 h after the intervention, as well as the postoperative data at day 7 and at one month from the intervention will be collected. The primary outcome for the study will be the postoperative pain at 24 h ± 2 h after the intervention. The pain will be assessed by a numeric rating scale of 0–10.
Other outcomes will also be assessed, such as pain at other times, the consumption of analgesics, the operative time, perioperative bleeding, the number of additional trocars in the two groups, the incidence of laparoconversion, the esthetic criteria of the scar at one month, the incidence of complications, and the quality of life at one month.
Discussion
If our hypothesis is confirmed, this study will provide evidence that the use of SPL can decrease postoperative pain in adnexal surgery. The standard surgical treatment of this condition would thus be modified.
Trial registration
ClinicalTrials.gov,
NCT02739724
. Registered on 12 April 2016.