01.12.2018 | Primary Research | Ausgabe 1/2018 Open Access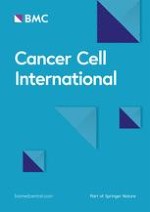 Effect of long non-coding RNA Gas5 on proliferation, migration, invasion and apoptosis of colorectal cancer HT-29 cell line
Zeitschrift:
Autoren:

Jin Li, Yuan Wang, Cheng-Gong Zhang, Hai-Juan Xiao, Jun-Ming Hou, Jing-Dong He
Abstract
Objective
This study aims to investigate the effect of long non-coding RNA (lncRNA) Gas5 on proliferation, migration, invasion and apoptosis of colorectal cancer (CRC) HT-29 cell line.
Methods
CRC and normal tissues were collected and prepared from a total of 126 CRC patients, and normal intestinal epithelial cell line FHC and CRC cell lines (HCT-8, HT-29, HCT-116 and SW-480) were prepared. Gas5 expression was detected by quantitative reverse transcriptase-polymerase chain reaction. HT-29 cell line exhibiting the lowest Gas5 expression was selected for further experimentation and divided into blank, negative control and pcNDA-Gas5 groups. The cell counting kit-8 assay was used to test cell proliferation. Flow cytometry was applied to examine cell apoptosis. Transwell assay was performed to detect the migration and invasion of HT-29 cells. The mRNA and protein expression of factors in the classical proliferation (Akt/Erk) and apoptosis (caspase-9/caspase-3) pathways were detected.
Results
Gas5 expression was lower in CRC tissues compared to the adjacent normal tissues, and is also lower in CRC cell lines than FHC cell line. Gas5 expression was associated with tumor size and TNM staging. Gas5 expression, distant metastasis, tumor differentiation and TNM staging were independent CRC prognostic factors. The results showed that elevated Gas5 expression inhibited proliferation, migration and invasion, but promoted apoptosis of CRC cells. Meanwhile, elevated Gas5 expression inhibited mRNA expression of Akt and Erk and protein expression of p-Akt and p-Erk, which promoted Casp9 mRNA and pho-Casp9 protein expression but inhibited Casp3 mRNA and pho-Casp3 protein expression.
Conclusion
The findings indicated that overexpression of lncRNA Gas5 can inhibit the proliferation, migration and invasion but promote apoptosis of CRC cells.