01.06.2015 | Clinical Article - Brain Tumors | Ausgabe 6/2015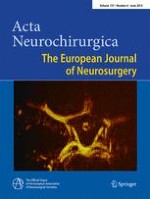 Effect of magnesium on functional outcome and paraclinical parameters of patients undergoing supratentorial craniotomy for brain tumors: a randomized controlled trial
Zeitschrift:
Autoren:

Bahador Mirrahimi, Abolghasem Mortazavi, Mohsen Nouri, Ebrahim Ketabchi, Abass Amirjamshidi, Asieh Ashouri, Mohammadreza Khajavi, Mojtaba Mojtahedzadeh
Wichtige Hinweise
Comment
Magnesium is an essential electrolyte involved in several basic cellular processes including preservation of membrane integrity, protein synthesis, energy metabolism, maintenance of ionic gradients, and regulation of calcium transport. The neuroprotective effect of magnesium sulfate has been attributed to the noncompetitive NMDA receptor antagonist activity of magnesium. In addition, magnesium modulates the ischemic brain injury cascade at other levels. These include the abilities to inhibit neurotransmitter release and cerebral vasospasm, to antagonize voltage-gated calcium ion channels, and to attenuate production of reactive oxygen species. Results on the use of magnesium sulfate (MgSO4) are however controversial: magnesium administration has been demonstrated to be safe and to improve short-term postoperative neurologic function after cardiac surgery, particularly in preserving short-term memory and cortical control over brainstem functions [1]. On the other hand, even though pilot studies have suggested the possible beneficial effects of MgSO4 infusion in treating patients with aneurysmal subarachnoid hemorrhage (SAH), an up-to-date systematic review and meta-analysis showed that MgSO4 administration does not reduce delayed ischemic deficits or improve neurological outcomes [2]. This same meta-analysis of six eligible studies with 875 patients suggests that a beneficial effect cannot, however, be ruled out because of sample size limitation.
In conclusion, although MgSO4 is a promising neuroprotective drug, studies involving hundreds of patients seem necessary to unequivocally demonstrate its clinical efficacy.
1. Bhudia SK, Cosgrove DM, Naugle RI, Rajeswaran J, Lam BK, Walton E, Petrich J, Palumbo RC, Gillinov AM, Apperson-Hansen C, Blackstone EH (2006) Magnesium as a neuroprotectant in cardiac surgery: a randomized clinical trial. J Thorac Cardiovasc Surg 131:853–861
2. Wong GK, Boet R, Poon WS, Chan MT, Gin T, Ng SC, Zee BC (2011) Intravenous magnesium sulphate for aneurysmal subarachnoid hemorrhage: an updated systemic review and meta-analysis. Crit Care 15:R52
Alfredo Conti,
Messina, Italy
In this prospective, randomized, double-blind and placebo-controlled study, Mirrahimi and colleagues assessed the effect of intravenous magnesium administration on the functional outcome and other parameters, such as the Barthel index score or duration of hospitalization, in 60 patients undergoing supratentorial brain tumor surgery. They found that the mean arterial pressure, heart rate, bleeding volume, and required dose of propofol were significantly lower in the treatment group.
Even though there are some limitations of the study, also seen by the authors themselves, in my opinion the study design warrants publication, and the results should encourage further studies.
Marcus Reinges
Giessen, Germany
Abstract
Background
Several studies have demonstrated that magnesium (Mg) plays an important role in the prevention and treatment of central nervous system (CNS) insults. In this study, we tested the effect of intravenous magnesium sulfate (MgSO4) on the outcome of patients with brain tumors who underwent craniotomy. The outcome was defined clinically as the Barthel index score and paraclinically as blood levels of NSE (neuron-specific enloase) and S100Β protein.
Methods
Sixty patients were randomly divided into two groups of 30 patients: the treatment and control groups. In the treatment group, 5 g of MgSO4 in normal saline was infused in 6 h 2 days before surgery, and the same dosage was repeated the day before and during surgery. The control group received placebo. Serum S100Β and NSE concentrations were measured at baseline before administration of magnesium, before surgery, and on the 2nd postoperative day. The Barthel index score was evaluated and registered before surgery, 3, and 6 months after the operation.
Results
The study results showed a significant change in S100Β protein levels before and after surgery (
p
 < 0.05), but we could not find similar results for NSE protein and the Barthel index score. There was a correlation between NSE protein and the Barthel index.
Conclusions
The results of this study revealed that administration of intravenous MgSO4 before and during surgery is safe and effective in reducing S100B protein levels in patients undergoing supratentorial craniotomy for brain tumors. Further studies to elucidate the pathophysiology of brain injuries and role of magnesium are warranted.