01.12.2018 | Research | Ausgabe 1/2018 Open Access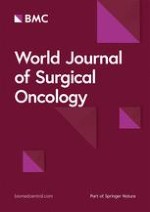 Effect of neoadjuvant chemotherapy and its correlation with HPV status, EGFR, Her-2-neu, and GADD45 expression in oral squamous cell carcinoma
Zeitschrift:
Autoren:

Manoj Pandey, Krishna Kiran Kannepali, Ruhi Dixit, Mohan Kumar
Abstract
Background
Head and neck cancers are the commonest cancer in Southeast Asia. Despite being a surface cancer, it is associated with significant morbidity as despite early detection by the patients they often report for treatment late and hence are associated with poor prognosis. The role of neoadjuvant chemotherapy in head and neck cancer is still under evaluation; there is a large subgroup of population that does not respond to chemotherapy, and hence, most studies have failed to show any survival benefit. This study evaluated the role of neoadjuvant therapy with docetaxel and carboplatin in patients with oral cancer and correlated the response to human papilloma virus, EGFR1, EGFR2, and GADD45 expression.
Methods
A total of 24 locally advanced, non-metastatic oral cancer patients were included in the study. Tumor biopsies were taken prior to the start of neoadjuvant therapy for expression of EGFR, Her-2-Neu, and GADD45 by immunohistochemistry and for HPV by PCR. The response was evaluated using Response Evaluation Criteria in Solid Tumors (RECIST) criteria after three cycles of chemotherapy. Statistical analysis was performed using correlation and Kaplan–Meier analysis; the difference in survival was calculated with log rank test.
Results
A total of 21 male and 3 female with a mean age of 53.12 years were enrolled. Sixty-five percent of these received three cycles of chemotherapy. Five patients were positive for HPV 16 and none for HPV 18. Twenty-two of 24 patients showed GADD45 expression, 3 showed expression of Her-2-Neu while all 24 showed expression for EGFR1 protein. Two-year overall survival was 81%; GADD45 expressions were found to significantly affect the overall and disease-free survival, while any of the other protein expression studied and HPV status was not significant.
Conclusion
The result of the present study shows significant downgrading of the oral cancers with neoadjuvant chemotherapy suggesting its utility in borderline operable cases. However, the response of chemotherapy does not appear to be related to the expression of EGFR, Her-2-Neu, and GADD45 protein or presence of HPV. Bone involvement, perineural invasion, and GADD45 expression significantly predict OS and DFS. All patients who did not express Gadd45 died before 2 years. Study with more subjects and longer follow-up should be carried out to elucidate this relation further.