19.10.2018 | Endocrine Tumors | Ausgabe 1/2019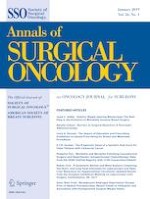 Effect of Noninvasive Follicular Thyroid Neoplasm with Papillary-Like Nuclear Features (NIFTP) on Malignancy Rates in Thyroid Nodules: How to Counsel Patients on Extent of Surgery
Zeitschrift:
Autoren:

MD, MEHP Brenessa M. Lindeman, MD Matthew A. Nehs, MD Trevor E. Angell, MD Erik K. Alexander, MD, MPH Atul A. Gawande, MD Francis D. Moore Jr., MD Gerard M. Doherty, MD Nancy L. Cho
Abstract
Purpose
To investigate the impact of the nomenclature change to "noninvasive follicular thyroid neoplasm with papillary-like nuclear features" (NIFTP) on reported malignancy rates following thyroidectomy.
Methods
Retrospective cohort study of patients with thyroid nodules sampled preoperatively with fine-needle aspiration (FNA) and subsequently removed at one tertiary-care hospital from 4/2016 to 2/2017. Surgical procedure, anatomic pathology, thyroid cytopathology classification, and demographic characteristics were recorded.
Results
Thyroidectomy was performed in 353 patients. Twenty-six patients (7.3%) had NIFTP on anatomic pathology. Preoperative FNA demonstrated atypia of undetermined significance (AUS/Bethesda III) in 13 (50%), suspicious for malignancy (SUS/Bethesda V) in 6 (23%), suspicious for follicular neoplasm (SFN/Bethesda IV) in 4 (15%), benign/Bethesda I in 2 (8%), and malignant/Bethesda VI in 1 (4%). Invasive malignancy rates across cytologic categories changed as follows: benign (
n
 = 74) from 4 to 1%, AUS (
n
 = 85) from 33 to 18% (
p
 < 0.05), SFN (
n
 = 58) from 29 to 22%, SUS (
n
 = 33) from 91 to 73% (
p
 < 0.05), and malignant (
n
 = 99) from 99 to 98%. Overall decrease in invasive malignancy was 7.3% for the entire population and 13.1% for indeterminate preoperative FNA cytology (Bethesda III–V). Among 26 NIFTP patients, 17 had thyroid lobectomy (TL) and 9 underwent total thyroidectomy (TT). Eight of the nine patients with TT could have been definitively treated with TL, an 89% decrease.
Conclusions
The NIFTP nomenclature change led to an overall decrease in the malignancy rate at our institution, especially for Bethesda III–V categories. Patients may be counseled toward more conservative surgical options if NIFTP is in the differential.