01.12.2017 | Study protocol | Ausgabe 1/2017 Open Access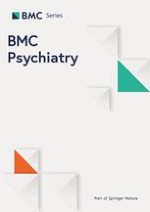 Effect of prenatal exposure to maternal cortisol and psychological distress on infant development in Bengaluru, southern India: a prospective cohort study
Zeitschrift:
Autoren:

Anita Nath, Gudlavalleti Venkata Satyanarayana Murthy, Giridhara R. Babu, Gian Carlo Di Renzo
Background
Given the above background, the aim of this study is to prospectively assess the association of maternal psychological distress and cortisol level with motor and cognitive development of the infant. The objectives include: (i) to describe the pattern of occurrence of maternal psychological distress during pregnancy (ii) to determine the influence of maternal psychological distress on infant motor and cognitive development (iii) to determine the influence of maternal cortisol level on infant motor and cognitive development. (iv) to correlate maternal psychological distress with maternal cortisol levels.
The proposed hypotheses are as follows:
Hypothesis 1: Maternal self reported psychological distress is associated with adverse infant motor and cognitive development.
Hypothesis 2: Elevated maternal cortisol level is associated with adverse infant motor and cognitive development.
Methods/design
Study design:

Prospective cohort study
Study participants and study setting
The study participants will include eligible pregnant women attending the antenatal clinic at the Jaya Nagar general hospital, Bangalore, who fulfill the following inclusion criteria which include (i) age between 18 and 40 years (ii) between 14 weeks to 28 weeks of gestation (iii) plan to deliver in the study hospital (iv) permanently residing in the study area within a radius of 15 km (v) full term healthy neonate with Apgar score of more than 7. Exclusion criteria will include (i) Multiple pregnancy (ii) grand multipara (iii) major pregnancy complications: preeclampsia-eclampsia, hyperemesis gravidarum (iv) birth complications: still births, preterm delivery, congenital anomalies (v) History of past or present intake of steroid medications.
Sample size
Evidence from literature shows that 10% to 20% of all women suffer from depression or anxiety during pregnancy [
37
,
38
]. With an expected prevalence of 15%, an allowable error of 5%, 10% variability and power 80%, the sample size is calculated to be 2176. Assuming a drop out rate of 20%, the calculated sample size amounts to 2612.
Sampling method
All those pregnant women who are visiting the antenatal clinic will be screened for eligibility. The women who are found to be eligible will be enlisted every month. They will be selected to participate in the study by means of simple random sampling, by using a series of computer generated numbers. The selected women will be contacted over the phone and invited to come to the study hospital. If a selected woman denies to enter the study, the woman then with the next number will be invited to participate.
Study procedures
The selected women would be recruited into the study after obtaining a written informed consent from them.
The baseline assessment will be done at the time of recruitment between 14 and 28 weeks (early to mid pregnancy). A. questionnaire will be administered to collect data on socio-demographic characteristics, obstetric, medical and psychiatric past histories.
Further assessments will be done (i) 37–38 weeks of gestation (late pregnancy), and at (ii) 10 days (iii) 3, 8 months (iv) 12 months after birth.
A flowchart depicting the study steps is shown in Fig.
2
.
×
Measurement of study exposure and outcomes
Maternal psychological distress
The Research team will receive training for using these scales from a team of experts at CSI Holdsworth Memorial Hospital, Mysore.
Confounders
The confounding factors that influence the outcome variables- cortisol level and infant growth and development will be taken into account at the time of data analysis. These are enlisted in Fig.
1
. Data on maternal educational level, occupation, socio-economic status, pregnancy risk factors will be obtained from the baseline information. The gestational age will be calculated from the last menstrual period as reported by the study participants. Information on birth weight will be obtained from medical records. Information on breastfeeding, post-natal psychological well-being and post-natal depression will be collected at the 10th day visit after birth. Maternal psychological well being will be assessed by using the General Health Questionaiire-30 which measures one's ability for effective daily functioning [
45
]. This contains 30 questions which are answered on a 4- point scale. Post natal depression will be measured by using the 10-item Edinburgh Postnatal Depression Scale (EPDS) [
46
].
Data management and analysis
Data management will be done using Microsoft Access which will be transported to SPSS Version 24 for analysis. Descriptive statistics will be used to summarize the socio-demographic characteristics, obstetric variables, perinatal outcomes, scores obtained from measurement scales and cortisol level estimates. Confounding variables will be tested for their relationships with the exposure (Maternal anxiety, depression and salivary cortisol level) and outcome (Mental Development Index and Psychomotor Development Index) by means of correlations (Pearson correlation coefficient or Spearman rank-order correlations where appropriate) and regression analysis. Only those variables that are significantly related to the exposure and outcome will be included in further analyses. Logistic Regression Model will be used to determine the association between the exposure variables and outcome which will be reported as Odd's Ratio (OR) and 95% confidence intervals (CI). The statistical significance for all the tests will be assumed to be at the level of
P
< .05.
Ethical considerations
The protocol for the proposed study has been reviewed and approved by the institutional ethical review board (IEC) at Bengaluru campus of IIPH-H. All the study participants will be required to provide a written informed consent in the local language.
Discussion
Our study findings could add to the growing evidence that maternal psychological distress during pregnancy adversely influences growth and development in the offspring and subsequent development of the child. While maternal anxiety and depression can be measured by using self reporting instruments, estimation of maternal endogenous cortisol levels could serve as a biomarker of prenatal psychological stress. Perhaps a combination of the above mentioned subjective and objective measures could give a better measure of mental stress during the antenatal period.
The findings from this study could be used to focus upon the burden of mental health problems during pregnancy with its adverse consequences and to consider steps to scale up prenatal mental health services in both public as well as private health settings. The study findings could be used to plan for evidence based- interventions such as stress reduction programmes to reduce maternal anxiety and depression during pregnancy, particularly in the Indian scenario.
Acknowledgements
Our sincere thanks to the Department of Health and Family Welfare, Government of Karnataka for granting permission to conduct the study at Jaya Nagar General Hospital. I am grateful to Dr. Murali Krishna, a trained psychiatrist from CSI Holdsworth Memorial Hospital,Mysore for his professional inputs. I am also thankful to Dr. Suresh Shapeti and Mr. Ramesh for their help in facilitating administrative approvals for the study.
Funding
The study is funded by an Intermediate Fellowship by the Wellcome Trust DBT India Alliance (Clinical and Public Health Research Fellowships).
Availability of data and materials
Requests for the datasets generated during and/or analyzed during the current study can be directed to the corresponding author. The Institutional ethics committee reviewing at IIPH-Bangalore will decide on providing the data.
Ethics approval and consent to participate
The study was reviewed and approved by the institutional ethical review board (IEC) at Bangalore campus of IIPH-H (Approval number IIPHHB/TRCIEC/118/2017), dated 31 st May 2017. Only participants willing to participate voluntarily and those who have provided written informed consent will be enrolled.
Consent for publication
Not applicable.
Competing interests
The authors declare that they have no competing interests.
Publisher's Note
Springer Nature remains neutral with regard to jurisdictional claims in published maps and institutional affiliations.
Open Access
This article is distributed under the terms of the Creative Commons Attribution 4.0 International License (
http://​creativecommons.​org/​licenses/​by/​4.​0/​
), which permits unrestricted use, distribution, and reproduction in any medium, provided you give appropriate credit to the original author(s) and the source, provide a link to the Creative Commons license, and indicate if changes were made. The Creative Commons Public Domain Dedication waiver (
http://​creativecommons.​org/​publicdomain/​zero/​1.​0/​
) applies to the data made available in this article, unless otherwise stated.