10.03.2020 | Original Contributions | Ausgabe 7/2020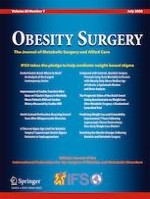 Effect of Roux-en-Y Gastric Bypass for Patients with Type 2 Diabetes Mellitus and a BMI < 32.5 kg/m2: a 6-Year Study in Chinese Patients
Zeitschrift:
Autoren:

Guangnian Ji, Weizheng Li, Pengzhou Li, Haibo Tang, Zhaomei Yu, Xulong Sun, Rao Li, Liyong Zhu, Shaihong Zhu
Wichtige Hinweise
Publisher's Note
Springer Nature remains neutral with regard to jurisdictional claims in published maps and institutional affiliations.
Abstract
Background
Roux-en-Y gastric bypass (RYGB) is an effective treatment for morbidly obese patients to improve type 2 diabetes mellitus (T2DM). Recently, T2DM patients with a lower body mass index (BMI) have been receiving more attention, and these patients could benefit from RYGB.
Methods
Fifty-two patients with T2DM underwent RYGB between October 2008 and December 2012 in our hospital. Weight, BMI, oral glucose tolerance test (OGTT), insulin release test (IRT), C-peptide release test (CRT), glycosylated hemoglobin (HbA1c), and lipid metabolic parameters were measured at baseline and at 3 and 6 months and 1, 2, 3, 4, 5, and 6 years after surgery.
Results
The mean age of the 52 patients was 46.8 ± 9.5 years, and 57.7% were male. The mean duration of T2DM was 6.5 ± 4.6 years. Compared with the baseline values, weight and BMI were significantly decreased at several time points after surgery. HbA1c decreased from 8.2 ± 1.7% at baseline to 6.5 ± 1.4% at 3 months, 6.5 ± 1.4% at 6 months, 7.2 ± 1.3% at 4 years, and 7.5 ± 1.2% at 6 years. OGTT, OGTT-IRT, and OGTT-CRT improved after surgery. There was a decrease in triglycerides (TGs), total cholesterol (TC), and low-density lipoprotein (LDL) and an increase in high-density lipoprotein (HDL). At 6 years after surgery, 16.7% of patients achieved complete remission of T2DM, and 66.7% achieved improvement in T2DM.
Conclusion
RYGB may be a safe and effective treatment for T2DM patients with a BMI < 32.5 kg/m2 in China. However, a long-term study without loss to follow-up is necessary for better evaluation.