11.02.2017 | Original Article | Ausgabe 3/2017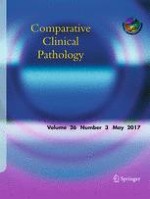 Effect of salbutamol against the experimental acute colitis in rat model
Zeitschrift:
Autoren:

Mohammad Javad Hosseini, Ehsan Motaghi, Masoumeh Ghasemi-Pirbaluti, Ali Najafi, Mohsen Minaiyan
Wichtige Hinweise
We reevaluated the contribution of authors in the preparation of the study and have decided to alter the order. All co-authors are aware of this change.
Abstract
Previous researches reported the role of beta2 adrenergic receptors in regulation of inflammatory processes. So, the current study evaluated the effect of salbutamol, a beta2 receptor agonist, against acetic acid-induced ulcerative colitis in rat model. Salbutamol (1 and 2 mg kg−1, intraperitoneal) was injected for 3 days starting 24 h before acetic acid instillation. The severity of acute ulcerative colitis in rats was evaluated by measuring the body weight loss, ulcer area, colon weight, hematocrit, colonic myeloperoxidase (MPO), and pathological and biochemical studies. The colon level of tumor necrosis factor-alpha (TNF-alpha), interleukin 1beta (IL-1beta), and interleukin 6 (IL-6) were analyzed by ELISA. These experiments showed that salbutamol (2 mg kg−1, intraperitoneal) significantly attenuated acute colitis as indicated by reduction of macroscopic score, pathological score, weight loss, ulcer area, and improvement in hematocrit level. Salbutamol at the dose of 2 mg kg−1 significantly reduced the elevated levels of MPO, TNF-alpha, IL1beta, and IL-6 in inflamed colon. In conclusion, salbutamol can ameliorate acute ulcerative colitis, possibly via the stimulation of beta2 receptors.