28.01.2020 | Research article | Ausgabe 1/2020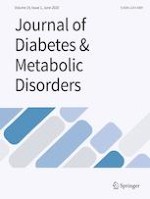 Effect of the consumption of natural products on some biochemical parameters of a type 2 diabetic population
Zeitschrift:
Autoren:

Nadjib M. Rahmoun, Ghizlaine Boukli-Hacene, Reda A. Bettioui, Chems-Edinne Ghembaza, Mohammed E. Ghembaza
Wichtige Hinweise
Publisher's note
Springer Nature remains neutral with regard to jurisdictional claims in published maps and institutional affiliations.
Abstract
Purpose
The use of phytotherapy is common worldwide and especially in Algeria. This practice was transmitted orally and ritually to treat chronic diseases. Safe extracts of edible plants can provide a resource of structurally diverse molecules that can effectively interfere with multifactorial diseases, such as diabetes mellitus. The objective of this work is to study the biochemical parameters of diabetic populations who consume medicinal plants.
Methods
This study involved 100 T2D subjects, recruited over a five-month period via a questionnaire containing anthropometric information: sex, age, age of diabetes, type of diabetes, plants consumed. Recruited patients were recalled for further examination of the biochemical record (fasting glucose, glycated hemoglobin, total cholesterol, triglycerides, creatinine, ASL and ASP).
Results
We found that diabetic patient associated with prescribed medical treatment uses the medicinal plants. This use is strongly predominant by women in both populations with 76% of them using herbal medicine. 58% of diabetics under herbal medicine had slightly unbalanced diabetes with HbA1c > 7. The difference between the total cholesterol, ASL and ASP parameters of the two populations was not significant. The study of correlation showed that the consumption of plant had an effect on the type of correlation between biochemical parameters of diabetic patients.
Conclusions
The consumption of medicinal plants did not affect the values of the measured biochemical parameters, while the correlation between these parameters can be modified.