26.10.2017 | Study Protocol | Ausgabe 6/2017 Open Access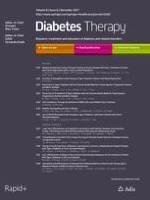 Effect of Trelagliptin on Quality of Life in Patients with Type 2 Diabetes Mellitus: Study Protocol
Zeitschrift:
Autoren:

Hitoshi Ishii, Yuki Suzaki, Yuko Miyata
Abstract
Introduction
Long-term glycemic control in type 2 diabetes is critical to prevent or delay the onset of macrovascular and microvascular complications. Medication adherence is an integral component of type 2 diabetes management. Minimizing the dosing frequency of antidiabetic drugs may reduce treatment burden for patients and improve medication adherence. This study has been proposed to assess the reduction in treatment burden during 12 weeks' administration of trelagliptin, a weekly dosing dipeptidyl peptidase-4 (DPP-4) inhibitor, compared with a daily dosing DPP-4 inhibitor in patients with type 2 diabetes.
Methods
This is a multicenter, randomized, open-label, parallel-group, comparative study to be conducted at approximately 15 sites across Japan. A total of 240 patients are to be randomized 1:1 to receive trelagliptin or a daily DPP-4 inhibitor for 12 weeks. Efficacy and safety will be compared between the two groups. The primary endpoint is the change in total score for all items of the diabetes-therapy-related QOL questionnaire from treatment start to treatment end. The study will be conducted with the highest respect for the individual participants in accordance with the protocol, the Declaration of Helsinki, the Ethical Guidelines for Clinical Research, the ICH Consolidated Guideline for Good Clinical Practice, and applicable local laws and regulations.
Funding
Takeda Pharmaceutical Company Limited.
Trial registration number
Japic CTI-173482.