01.12.2015 | Research article | Ausgabe 1/2015 Open Access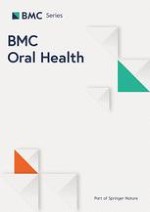 Effect on enamel shear bond strength of adding microsilver and nanosilver particles to the primer of an orthodontic adhesive
Zeitschrift:
Autoren:

Sonja Blöcher, Roland Frankenberger, Andreas Hellak, Michael Schauseil, Matthias J Roggendorf, Heike Maria Korbmacher-Steiner
Wichtige Hinweise
Competing interests
Nanosilver AgPure™ W50 was donated by ras materials GmbH (Regensburg, Germany). Discovery® brackets # 790-152-00 for tooth 35 were donated by Dentaurum GmbH & Co. KG (Ispringen, Germany).
The authors declare that they have no competing interests.
Authors' contributions
SB conceived the study together with RF and HMKS, and carried out all experiments and helped to draft the manuscript. MJR and SB provided the SEM images. AH and MS performed the statistical analysis. RF and HMKS conceived the study, participated in its design and coordination and drafted the manuscript. All authors read and approved the final manuscript.
Abstract
Background
The objective of this study was to determine whether the addition of microsilver or nanosilver particles to an orthodontic primer affects shear bond strength (SBS) and bracket/adhesive failure.
Methods
Bovine incisors were randomly divided into six groups with 16 specimens in each: In group 1 (control), brackets were bonded with Transbond™ XT primer. In the experimental groups, microsilver (groups 2 and 3) and nanosilver (groups 4–6) particles of different sizes were added to Transbond XT primer and light cured for 15 seconds [group 2: 0.1% (w/w) microsilver particle size 3.5–18 μm; group 3: 0.3% (w/w) microsilver particle size 3.5–18 μm; group 4: 0.11% (w/w) nanosilver particle size 12.6–18.5 nm; group 5: 0.18% (w/w) nanosilver particle size 12.6–18.5 nm; group 6: 0.33% (w/w) nanosilver particle size 12.6–18.5 nm]. Thereafter, brackets were bonded by light curing the adhesive for 20 seconds. After 24 hours of storage in distilled water at 37°C, SBS was measured with a Zwicki 1120 testing machine. The adhesive remnant index and the prevalence of silver spots on the specimen surface were determined under 10× magnification. Statistical two-way analysis of variance was performed to compare SBS, and a chi-square test was used to compare ARI scores and the prevalence of silver spots.
Results
No significant differences in SBS (control: 16.59 ± 6.82 MPa; group 2: 20.6 ± 4.19 MPa; group 3: 16.98 ± 4.84 MPa; group 4: 17.15 ± 5.92 MPa; group 5: 20.09 ± 3.35 MPa; group 6: 16.44 ± 4.51 MPa;
p
 > 0.665) and ARI scores (p = 0.901) were found between the control group and any experimental group. Only experimental groups with nanosilver particles revealed statistically more silver spots on the remaining adhesive.
Conclusions
Addition of small concentrations of microsilver or nanosilver particles affects neither SBS nor ARI scores. Addition of nanosilver particles results in silver spots in the remaining primer visible under 10× magnification. Further studies are needed to investigate the anti-caries potential and clinical performance of conventional orthodontic primer with incorporated nanosilver or microsilver particles.