20.01.2020 | Original Communication | Ausgabe 5/2020 Open Access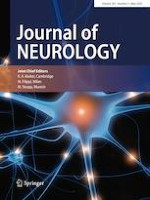 Effective long-term treatment with incobotulinumtoxin (Xeomin®) without neutralizing antibody induction: a monocentric, cross-sectional study
Zeitschrift:
Autoren:

Harald Hefter, Raphaela Brauns, Beyza Ürer, Dietmar Rosenthal, Philipp Albrecht
Abstract
Background
Among the spectrum of licensed botulinum neurotoxin preparations incobotulinumtoxin (incoBoNT/A; Xeomin®) is the only one which does not contain complex proteins. Therefore, incoBoNT/A has been suggested to have a low antigenicity, but precise estimations on incidence and prevalence of neutralizing antibody formation during long-term treatment are outstanding so far.
Methods
For the present cross-sectional study, 59 patients having exclusively been treated with incoBoNT/A (mono group) and 32 patients having been treated with other BoNT/A preparations less than nine times and who were then switched to at least 14 sessions of incoBoNT/A treatment (switch group) were recruited from one botulinum toxin outpatient clinic. Side effects and doses were extracted from the charts, and the efficacy of treatment was assessed by the patients using a visual analogue scale (0–100). The prevalence of neutralizing antibodies was tested by means of the mouse hemi-diaphragm assay (MHDA).
Findings
None of the patients in the mono and only two in the switch group had a positive MHDA-test. Across all indications and patients, mean improvement exceeded 67%. Improvement did not depend on age at onset, sex, change of dose or duration of treatment, but on disease entity. In patients with cervical dystonia, improvement was about the same in the mono and switch subgroup, but the last dose was different.
Conclusions
The present study confirms the low antigenicity of incoBoNT/A, which has immediate consequences for patient management, and the use of higher doses and shorter durations of reinjection intervals in botulinum toxin therapy.