23.05.2016 | Original Article | Ausgabe 2/2016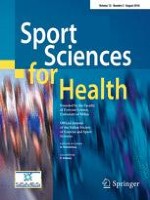 Effectiveness of aquatic exercise on reduction B-type natriuretic peptide values in postmenopausal hypertensive women: a randomized clinical trial
Zeitschrift:
Autoren:

Eduardo Aguilar Arca, Rodrigo Leal de Paiva Carvalho, Silvia Regina Barrile, Camila Gimenes, Bruno Martinelli, Roberto Jorge da Silva Franco, Luis Cuadrado Martin
Abstract
Purpose
To compare the responses of aquatic exercise with dry land training and control inactive group on B-type natriuretic peptide and plasma renin activity levels in postmenopausal hypertensive women.
Methods
Forty postmenopausal hypertensive women were randomly assigned to 3 groups: water group, dry land group and a non-intervention control group. The exercises programs consisted of consisted of 50-min sessions, three-times a week and was performed for 12 weeks. Samples of B-type natriuretic peptide and plasma renin activity levels were collected pre- and post-intervention. In the dry land exercise program, heart rate was maintained at around 50–60 % of the heart rate reserve, deducting 17 heart beats for aquatic exercise.
Results
There was a statistically significant reduction in B-type natriuretic peptide in the water group (37 ± 11.1 ng/L) to (22 ± 9.4 ng/L), pre and post intervention, respectively. There was no difference in plasma renin activity levels between groups and moments.
Conclusion
This study demonstrated the effectiveness of aquatic exercise in reducing B-type natriuretic peptide values in postmenopausal hypertensive women. Plasma renin activity levels values were not influenced by either of the interventions.