16.05.2019 | Otology | Ausgabe 9/2019 Open Access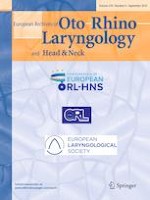 Effectiveness of care in acute dizziness presentations
Zeitschrift:
Autoren:

Mikael Granberg Sandlund, Anna Diamant, Gabriel Granåsen, Jonatan Salzer
Wichtige Hinweise
Publisher's Note
Springer Nature remains neutral with regard to jurisdictional claims in published maps and institutional affiliations.
Abstract
Purpose
This study aims to evaluate whether a management algorithm has improved the effectiveness of care for dizzy patients at Umeå University Hospital.
Methods
This was an interventional study using medical records to collect data for acute dizziness presentations before (period 1, 2012–2014) and after (period 2, 2016–2017) the implementation of a management algorithm. Outcomes were changes in a set of pre-defined effectiveness markers and health economic effects.
Results
Total
n
 = 2126 and
n
 = 1487 acute dizziness presentations were identified in period 1 and 2, respectively. Baseline characteristics were similar. The proportion of patients undergoing Dix–Hallpike testing increased, 20.8% [95% confidence interval (CI) 18.8–23.0%] vs. 37.7% (95% CI 35.2–40.2%), as did BPPV diagnoses, 7.6% (95% CI 6.6–8.8%) vs. 15.3% (95% CI 13.6–17.3%). Hospitalization became less common, 61.5% (95% CI 59.4–63.6%) vs. 47.6% (95% CI 45.1–50.2%). The proportion undergoing any neuroradiological investigation decreased, 44.8% (95% CI 42.7–47.0%) vs. 36.3% (95% CI 33.8–38.7%) with a shift from CT to MRI, with unchanged sensitivity for diagnosing cerebrovascular causes. The average cost for the care of one dizzy patient decreased from $2561 during period 1 to $1808 during period 2.
Conclusions
This study shows that the implementation of a management algorithm for dizzy patients was associated with improved effectiveness of care.