01.12.2015 | Research article | Ausgabe 1/2015 Open Access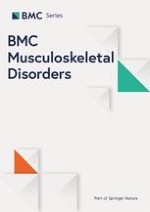 Effectiveness of intra-articular injections of sodium bicarbonate and calcium gluconate in the treatment of osteoarthritis of the knee: a randomized double-blind clinical trial
Zeitschrift:
Autoren:

Sandra García-Padilla, Miguel Angel Duarte-Vázquez, Karla Elena Gonzalez-Romero, María del Carmen Caamaño, Jorge L Rosado
Wichtige Hinweise
Competing interests
This study was partially financed by Nucitec SA de CV. Dr. Miguel Angel Duarte is an employee at this company and did not receive any compensation for this study. Dr. Jorge L Rosado owns shares of this company. They participated in the concept and design of the study and in revision of the final draft of the manuscript. They were not involved in the fieldwork and did not participate in the data analysis. The other authors work at the University of Queretaro and/or Cindetec A.C. where the study and data analyses were carried out.
Authors' contributions
MADV participated in the design and provided important intellectual content. KEGR coordinated the fieldwork and was in charge of quality assurance. SGP supervised the fieldwork and contributed in the results interpretation. MCC performed the data analysis and contributed in results interpretation and revising of the manuscript. JLR participated in the conception and design and in the revision of the manuscript. All authors read and approved the final manuscript.
Abstract
Background
A novel therapeutic management of osteoarthritis (OA) of the knee was assessed. The study aimed to evaluate the effect of monthly sodium bicarbonate with a single (SBCG1) or double dose (SBCG2) of calcium gluconate injections on OA of the knee; as well as the efficacy and safety of both SBCG interventions in the long term.
Methods
A double-blind parallel-group clinical trial with 74 knee OA patients was performed during 12 months, both SBCG interventions were followed-up for another 6mo after intervention. The outcome variables were the Western Ontario-McMaster University Osteoarthritis Index (WOMAC), the Lequesne's functional index and joint-space width changes from serial radiographs.
Results
After 12 months, group SBCG1 decreased −14.8 (95% CI:-14.2, −17.0) and group SBCG2 decreased −14.6 (−16.9, −12.4) in the global WOMAC score, the mean changes represent 80% and 82% lessened pain, respectively. In the Lequesne Functional Index scale, SBCG1 decreased −11.9 (−10.4, −14.2) and SBCG2 decreased -11.9 (−13.8, −10.0), representing 66 and 69% of improvement. Both mean scores were maintained after intervention discontinued. SBCG2 improved the knees' joint space width more than SBCG1 at 3 and 18 months. Both SBCG interventions were well tolerated after 12 months of treatment
Conclusion
A solution of sodium bicarbonate and calcium gluconate is effective on reducing the symptoms associated with OA. Its beneficial effect is maintained for one year of continuous monthly administration and at least for 6 months after the administration is discontinued. When the dose of calcium gluconate is increased, it prevents further narrowing of joint-space.