04.11.2017 | Original Paper | Ausgabe 1/2018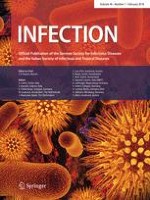 Effectiveness of kidney transplantation in HIV-infected recipients under combination antiretroviral therapy: a single-cohort experience (Brescia, Northern Italy)
Zeitschrift:
Autoren:

Ilaria Izzo, Salvatore Casari, Nicola Bossini, Maria Antonia Forleo, Silvio Sandrini, Emanuele Focà, Nigritella Brianese, Giulia Zambolin, Claudia Chirico, Giovanni Cancarini, Francesco Castelli
Abstract
Purpose
Kidney transplantation was recently introduced for the treatment of end stage renal disease (ESRD) in HIV-infected patients. We report the results of the first 28 procedures at our centre.
Methods
A retrospective study was conducted on HIV-infected patients evaluated for kidney transplantation between January 2005 and October 2016. Patients were selected and monitored by the kidney transplantation and infectious diseases teams, according to the national protocol.
Results
60 patients were evaluated; 32 entered the list and 28 were transplanted. Median CD4+ count was 337 cell/μL at transplantation and 399 cell/μL 12 months thereafter. HIV RNA was undetectable at transplantation in 27/28 patients and became undetectable within 24 weeks in the only patient starting antiretroviral combination therapy (cART) after surgery. Four patients experienced virological failure, but reached again undetectability after cART regimen change. At last available point of follow-up (median 126.1 weeks), HIV RNA was undetectable in all patients. Three patients experienced AIDS-defining events. We observed a cumulative number of 19 acute rejections in 16 patients (median time from transplantation to first rejection 5.2 weeks). Survival rate was 82.1%. To avoid pharmacokinetics (PK) interactions, cART regimen was changed from a protease inhibitor (PI)/non-nucleoside reverse transcriptase inhibitor (NNRTI)-based to an integrase inhibitor (InSTI)-based regimen in 11/20 alive patients with functioning graft.
Conclusions
Kidney transplantation appears to be safe in HIV-infected patients carefully selected. As previously reported, we observed a high incidence of acute rejection. We expect that the recent implementation of the immunosuppressive protocols will allow a better immunologic control. Moreover, the introduction of InSTI permits a better strategy of cART, with lower incidence of PK interactions with immunosuppressive drugs.