09.12.2015 | Original Research | Ausgabe 3/2016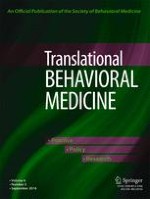 Effects of an after-school care-administered physical activity and nutrition protocol on body mass index, fitness levels, and targeted psychological factors in 5- to 8-year-olds
Zeitschrift:
Autoren:

PhD, FAAHB, FTOS, FAPA James J. Annesi, MS, MBA Alice E. Smith, MD, FAAP Stephanie M. Walsh, PhD, RN Nicole Mareno, MS Kathleen R. Smith
Wichtige Hinweise
Implications
Practice
: For young elementary school students, after-school care can, and should, provide moderate-to-vigorous physical activity and health information in a manner that increases feelings of accomplishment and mastery (self-efficacy) and serves to improve health and physical activity behaviors both in, and out of, school.
Research
: Future research is warranted to further investigate psychosocial correlates of adequate physical activity and healthy nutrition and how self-regulatory skills might be incorporated to overcome naturally occurring barriers—especially in overweight/obese children whose environments might be especially challenging.
Policy
: Resources and evidence-based methods should be directed at school-administered programs so that state-of-the-art behavioral science is best deployed to foster recommended amounts of physical activity, healthful nutritional choices, and other health promotion behaviors, especially when the naturally occurring setting makes them difficult to attain.
Abstract
Over one third of U.S. youth are overweight or obese. Treatments typically have had unreliable effects, inconsistently incorporating behavior-change theory. After-school care might be a viable setting for health behavior-change programs. We evaluated effects of two consecutive 12-week segments of a revised self-efficacy/social cognitive theory-based physical activity and nutrition treatment on fitness levels, body mass index (BMI), and targeted psychosocial factors in after-school care participants, ages 5–8 years. Changes in physiological measures, exercise self-efficacy (ESE), and physical self-concept over 9 months were contrasted in experimental (
n
 = 72) vs. typical-care (
n
 = 42) groups. Mediation of the group–BMI change relationship by the psychosocial factors was also assessed. Improvements in physiological measures and ESE were significantly greater in the experimental group. ESE change completely mediated the association of treatment type with BMI change. The experimental group demonstrated significantly greater improvements in the physiological measures, with its treatment's theoretical basis and application within after-school care supported.