26.12.2016 | Original Article | Ausgabe 2/2017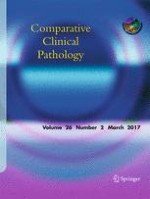 Effects of aqueous and dimethyl sulfoxide extracts of
Peganum harmala

on juveniles of

Dictyocaulus filaria
Zeitschrift:
Autoren:

Ashkan Roozitalab, Davood Amiri Fardabolverdi, Nasrin Moghadar, Masood Sepehrimanesh, Iman Razeghian Jahromi
Abstract
The aim of the present study was to investigate the larvicidal effect of aqueous and dimethyl sulfoxide extracts of
Peganum harmala
on larvae of
Dictyocaulus filaria.
Seed extract was prepared, and serial dilutions of 200, 100, 50, 25, 12.5, 6.25, and 3.12 mg/ml were prepared using distilled water and dimethyl sulfoxide (DMSO). Two genders of
D
.
filaria
were collected from sheep lung and cultured with
Escherichia coli
bacteria as parasites nutrition source. Ten juveniles were placed in deep slide to assess the larvicidal effects based on disability in the movement, degranulation, and appearance of the wrinkles on the body and narrowing of the body especially at the extremities every 20 min until 180 min. The larvicidal effect was reached to 100% for 200 mg/ml at more than 80 min, for 100 mg/ml at more than 100 min and for 50 mg/ml at more than 160 min for both extracts. The DMSO extract in all concentrations had significantly more potent than aqueous extract after 40 and 60 min for 200 mg/m, after 20, 60, and 80 min for 100 mg/ml, after 20, 40, 100, and 120 min for 50 mg/ml, after 40, 80, 120, 140, 160, and 180 min for 25 mg/ml, all time except at 20 min for 12.5 and 6.25 mg/ml, and at time more than 80 min for 3.12 mg/ml (
P
< 0.05). DMSO extract of
P
.
harmala
can be used as anthelmintic agent in the treatment of infestation with
D
.
filaria.