25.03.2018 | Original Article | Ausgabe 4/2018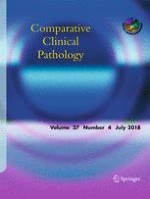 Effects of bilateral whole vessel ovarian ligation on dogs' ovarian function and histopathology
Zeitschrift:
Autoren:

A. Mogheiseh, B. Nikahval, M. S. Ahrari Khafi, M. Mansourian, S. Nazifi, Z. Mardani
Abstract
The most significant postoperative complication of spaying is bleeding from ovarian pedicles. In this study, all of the ovarian vessels were bilaterally ligated; then, ovaries were stimulated by gonadotropins. In a clinical trial and sequential control experiment, five healthy mixed-breed mature female dogs were randomly selected and kept under the new situation for 3 weeks. All ovarian vessels of the dogs were double ligated, bilaterally. For 13 weeks, blood samples, vaginal cytology, and ultrasound examinations continued weekly. All dogs received eCG (200 IU/dog, IM, 5 days) and hCG (500 IU/case IM, 5th day) 1 month after ovarian ligation. After 4 weeks, all dogs were ovariohysterectomized, and ovarian specimens were submitted for histopathological evaluations. Estradiol 17β and progesterone were assayed with ELISA kits. Estradiol concentration decreased after ligation and continued to decrease to the end of study (during 10 weeks). Estradiol concentrations were different before ligation and after hormone stimulation and ovariohysterectomy (
P
 < 0.01). Progesterone concentration decreased suddenly after ligation and had a plateau during the study. Progesterone concentrations were different before ligation period and after ligation and hormone stimulation periods (
P
 < 0.03). An ultrasonographical evaluation showed normal ovarian structures before ligation and ovarian adhesions to bursa and ovarian hyperechogenicity without the presence of active structures. Bleeding, congestion, primordial and primary follicle necrosis, and some degree of fibrosis were observed in the histopathological evaluations. Bilateral whole vessel ovarian ligation could inactivate dogs' ovarian function during 8 weeks. So, we suggest ligation of whole vessels of dogs' ovaries as an alternative method for ovariectomy.