08.04.2019 | Ausgabe 3/2019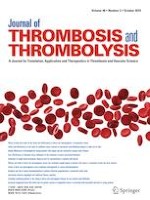 Effects of body mass index on the safety and effectiveness of direct oral anticoagulants: a retrospective review
Zeitschrift:
Autoren:

Jared Netley, Kris Howard, William Wilson
Wichtige Hinweise
Publisher's Note
Springer Nature remains neutral with regard to jurisdictional claims in published maps and institutional affiliations.
Abstract
Background
The International Society on Thrombosis and Haemostasis recommends avoiding the use of direct oral anticoagulants (DOACs) in patients with a body mass index (BMI) greater than 40 kg/m2 or weight greater than 120 kg.
Hypothesis
Higher BMI is associated with altered pharmacokinetics which may affect the safety and effectiveness for DOACs.
Methods
Data were collected on 3458 patients taking a DOAC prior to admission to a Midwestern health system between February 2013 and August 2016. Of these, 43 patients had a thrombotic event and 70 patients had an overt bleeding event. Patients were stratified among the following three BMI groups: BMI < 30 kg/m2, BMI 30–40 kg/m2, and BMI > 40 kg/m2.
Results
There was no statistically significant difference between BMI groups for thrombotic events (p = 0.598) or for overt bleeding events (p = 0.065). The BMI < 30 kg/m2 had the highest occurrence rate of bleeding events. It was observed that bleeding occurrence decreased as the BMI groups increased. The BMI > 40 kg/m2 group had the lowest risk of bleeding events, and was the only group to have a higher occurrence rate of thrombotic events compared to bleeding events.
Conclusions
Among patients admitted to a single health system on DOAC therapy over a three-and-a-half-year period, obesity did not significantly correlate with thrombotic or overt bleeding complications. This study is limited as a single health system study with low overall event rates. A preliminary finding of this study showed a trend towards decreased bleeding frequency as BMI increased.