01.12.2012 | Review | Ausgabe 1/2012 Open Access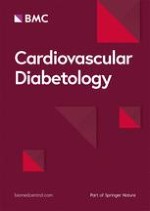 Effects of diabetes on myocardial infarct size and cardioprotection by preconditioning and postconditioning
Zeitschrift:
Autoren:

Takayuki Miki, Takahito Itoh, Daisuke Sunaga, Tetsuji Miura
Wichtige Hinweise
Competing interests
TaM has received research funding from Daiichi-Sankyo, Japan, Eisai, Japan, and Pfizer, Japan. TI and DS have no conflicts of interest or financial ties to disclose. TeM has received research funding from Takeda Pharmaceuticals, Japan, Novartis, Japan, Chugai Pharmaceutical, Japan, and Astellas Pharma, Japan.
Authors' contributions
TaM collected and arranged the data in sequence, drafted and correspond the manuscript. TI and DS contributed to collection and analysis of the data. TeM contributed to analysis and interpretation of data and revision. All authors have read and approved the final manuscript.
Abstract
In spite of the current optimal therapy, the mortality of patients with ischemic heart disease (IHD) remains high, particularly in cases with diabetes mellitus (DM) as a co-morbidity. Myocardial infarct size is a major determinant of prognosis in IHD patients, and development of a novel strategy to limit infarction is of great clinical importance. Ischemic preconditioning (PC), postconditioning (PostC) and their mimetic agents have been shown to reduce infarct size in experiments using healthy animals. However, a variety of pharmacological agents have failed to demonstrate infarct size limitation in clinical trials. One of the possible reasons for the discrepancy between the results of animal experiments and clinical trials is that co-morbidities, including DM, modified myocardial responses to ischemia/reperfusion and to cardioprotective agents. Here we summarize observations of the effects of DM on myocardial infarct size and ischemic PC and PostC and discuss perspectives for protection of DM hearts.