04.12.2017 | Review Article | Ausgabe 3/2018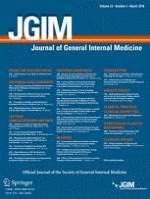 Effects of Discontinuation of Urate-Lowering Therapy: A Systematic Review
Zeitschrift:
Autoren:

MD Virginie Beslon, MD Perrine Moreau, MD, PhD Annabel Maruani, MD Hubert Maisonneuve, MD, PhD Bruno Giraudeau, MD, PhD Jean-Pascal Fournier
Wichtige Hinweise
Virginie Beslon and Perrine Moreau contributed equally to this work.
Abstract
Background
Urate-lowering therapy (ULT) is associated with low rates of adherence, leading to a potential risk of relapse of gouty arthritis, tophi, or urolithiasis. Our main aim was to identify the recurrence of gouty arthritis, tophi, or urolithiasis after discontinuation of ULT. Secondary aims included an assessment of ULT reintroduction rates and factors associated with relapse.
Methods
We conducted a systematic literature review of clinical studies investigating the effect of discontinuing any ULT (allopurinol, febuxostat, probenecid, sulfinpyrazone, benzbromarone) in adults on long-term therapy. We searched The Cochrane Central Register of Controlled Trials, MEDLINE, EMBASE, Science Citation Index, and ClinicalTrials.gov from inception to March 2016. Conference abstracts of the ACR/ARHP and EULAR annual conferences were hand-searched. Study quality was assessed using the first eight items of the methodological index for non-randomized studies (MINORS) tool. The review protocol is registered with PROSPERO (CRD42016042048).
Results
A total of 4640 articles were identified, eight of which were ultimately included. Most of these studies predated 2000. MINORS scores ranged from 5 to 10 out of a possible 16. Mean follow-up duration after discontinuation ranged from 12 to 96 months. Five studies focused on discontinuation of ULT in gouty arthritis and tophi, two in urolithiasis, and one in asymptomatic hyperuricemia. Relapse rates were high in gout (36—81%) and lower in urolithiasis (15%). Relapses occurred 1–4.5 years after ULT discontinuation. In one study, a low serum urate level before and after ULT discontinuation was associated with lower gout recurrence.
Discussion
Relapse of gout is common although delayed after discontinuation of ULT. Short-term prognosis after ULT discontinuation appears favorable if the serum urate level was low before ULT discontinuation. The results of this review are limited by the paucity of existing studies and their low quality. Further comparative studies should consider larger primary care populations and discontinuation of febuxostat.