01.03.2013 | Original Paper | Ausgabe 1/2013 Open Access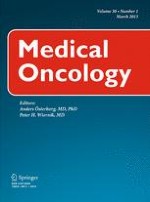 Effects of EHD2 interference on migration of esophageal squamous cell carcinoma
Zeitschrift:
Autoren:

Mei Li, Xiaojing Yang, Jianguo Zhang, Hui Shi, Qinglei Hang, Xianting Huang, Guoliang Liu, Junya Zhu, Song He, Huijie Wang
Wichtige Hinweise
Mei Li and Xiaojing Yang contributed equally to this work.
Abstract
C-Terminal EH domain-containing protein 2 (EHD2) of the EHD family is associated with plasma membrane. We investigated the expression of EHD2 in human esophageal squamous cell carcinoma (ESCC) and the EHD2 expression to study the therapeutic effect of chemotherapy drugs. Western blot and immunohistochemistry were used to measure the expression of EHD2 protein in ESCC and adjacent normal tissue in 98 patients. EHD2 protein level was reduced in ESCC tissues in comparison with adjacent normal tissues. Under-expression of EHD2 increased the motility property of ESCC cell TE1 in vitro by wound-healing assays and transwell migration assays, and it was concurrent with the decreased expression of epithelial marker E-cadherin. Under-expression of EHD2 in TE1 can cause resistance to cisplatin. Our results suggested that EHD2 low expression is involved in the pathogenesis of ESCC, and it might be a favorable independent poor prognostic parameter for ESCC.