01.12.2017 | Research | Ausgabe 1/2017 Open Access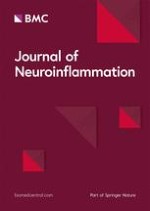 Effects of environmental enrichment on white matter glial responses in a mouse model of chronic cerebral hypoperfusion
Zeitschrift:
Autoren:

Yoshiki Hase, Lucinda Craggs, Mai Hase, William Stevenson, Janet Slade, Dianne Lopez, Rubin Mehta, Aiqing Chen, Di Liang, Arthur Oakley, Masafumi Ihara, Karen Horsburgh, Raj N. Kalaria
Abstract
Background
This study was designed to explore the beneficial effects of environmental enrichment (EE) on white matter glial changes in a mouse model of chronic cerebral hypoperfusion induced by bilateral common carotid artery stenosis (BCAS).
Methods
A total of 74 wild-type male C57BL/6J mice underwent BCAS or sham surgery. One week after surgery, the mice were randomly assigned into three different groups having varied amounts of EE—standard housing with no EE conditions (std), limited exposure with 3 h EE a day (3 h) and full-time exposure to EE (full) for 12 weeks. At 16 weeks after BCAS surgery, behavioural and cognitive function were assessed prior to euthanasia. Brain tissues were analysed for the degree of gliosis including morphological changes in astrocytes and microglia.
Results
Chronic cerebral hypoperfusion (or BCAS) increased clasmatodendrocytes (damaged astrocytes) with disruption of aquaporin-4 immunoreactivity and an increased degree of microglial activation/proliferation. BCAS also impaired behavioural and cognitive function. These changes were significantly attenuated, by limited exposure compared to full-time exposure to EE.
Conclusions
Our results suggest that moderate or limited exposure to EE substantially reduced glial damage/activation. Our findings also suggest moderate rather than continuous exposure to EE is beneficial for patients with subcortical ischaemic vascular dementia characterised by white matter disease-related inflammation.